» Next Entries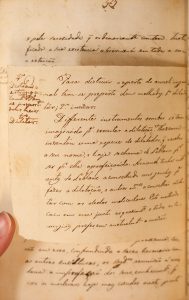 Among the many rare books donated by the family of Dr. Mark Ravitch, is a handwritten thesis on inguinal hernia. Its author, Joaquim Antonio dos Prazeres-Batalhoz, was a Portuguese naval surgeon and one of the first graduates of the Royal Surgical School in Lisbon. When the Régia Escola de Cirurgia de Lisboa opened in 1825 to educate surgeons, the school was associated with the Hospital de São José. It offered courses in seven subjects over a five-year period, but could not award medical degrees due to an insufficient curriculum. However, its graduates could practice medicine in places where there were no physicians that were educated at the University of Coimbra (the oldest university in Portugal with full privileges). Read more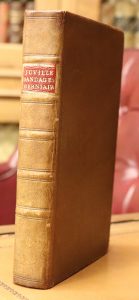 Jean Juville, identified in French dictionaries and catalogs as Juville, hernia expert, was an 18th century surgeon educated at the Royal College of Surgery in Paris, and a truss maker.
Before publishing his principal work on hernia bandages (Traité des bandages herniaires, Paris 1786), he already had forty years of experience practicing surgery, studying and perfecting these instruments. He presented the bandages of his invention to the Academy of Sciences in 1773, and published extensively on the subject in the Journal de Medicine in 1775, 1777, and 1783. His name was well known and respected. There was no author writing about hernia bandages in the late 18th and early 19th century who would not refer to or talk about this Parisian truss maker. Juville's treatise is considered the best 18th century work on the subject. Read more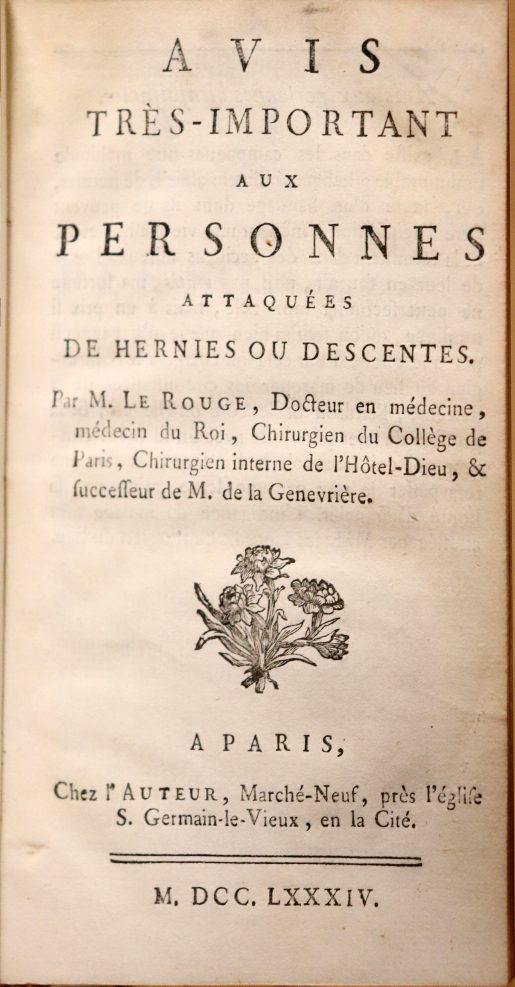 We know very little about the author of an unusual book on hernia found in the Falk Library Rare Book Collection. Jean Pierre Le Rouge was a surgeon at the College of Surgeons in Paris and at the Hôtel-Dieu in the second half of the 18th century and was the author of two books on hernias. He had 17 years of experience working at the biggest hospital in Paris, Hôtel-Dieu, when he published his first popular work Avis très important aux personnes attaquées de hernies ou descentes [Translation: Very important notice to people attacked by hernia] in 1784. A year later, in 1785, his thesis Dissertatio anatomico-chirurgica de perfecta inguinalis herniae simplicis curatione [Translation: Thesis on the treatment of inguinal hernia] appeared. Both books are very scarce.
The popular tract may be considered an early example of consumer health information. It consists of five chapters, in which the author (1) explains the causes and characteristics of different hernia types; (2) gives advice on limiting physical activities when wearing hernia trusses; (3) points out the need to wear supportive bandages or pessaries; (4) discusses palliative treatment focused on reducing hernias by means of bandages illustrated with the cases from his hospital practice; and (5) provides a composition of a plaster for the radical cure of a hernia. Read more
Jacques-Fabien Gautier D'Agoty (1717-1785), the French anatomist and printmaker, produced his first color printed image of a shell in 1737. He started color printing by making reproductions of oil paintings, but soon turned to producing color-printed images for science. Between 1745 and 1785, he produced more than a dozen illustrated works on anatomy and physics. His cooperation with anatomist Joseph-Guichard Duverney resulted in the publication of three anatomy atlases. After the anatomist's death, Gautier himself took over the anatomical dissections and demonstrations used for later works. He provided color plates for many periodicals. As a member of the Académie des Sciences, Arts et Belles-Lettres de Dijon, he used his scientific activity to promote his business. His entrepreneurial skills made his printing atelier into a successful family enterprise. He and all of his five sons were influential members of printing and artistic communities in Paris in the mid-18th century. Read more
The artist, Jacques-Fabien Gautier, later known as Gautier D'Agoty (1717-1785), was a French painter, engraver, and printer who moved to Paris around 1735. In the French capital, he briefly worked as an assistant to Jacob Christoph Le Blon, the inventor of a three-color printing process using red, yellow, and blue plates. After Le Blon's death in 1741, Gautier not only took over the business, but he also successfully claimed the title of "inventor of color printing." He secured the royal privilege and funding for his own printing endeavor to prove it. The basis of his claim was that in addition to the three plates of colors used by Le Blon, he introduced a fourth, black plate. He further refined the technique by switching the order in which the colors were applied.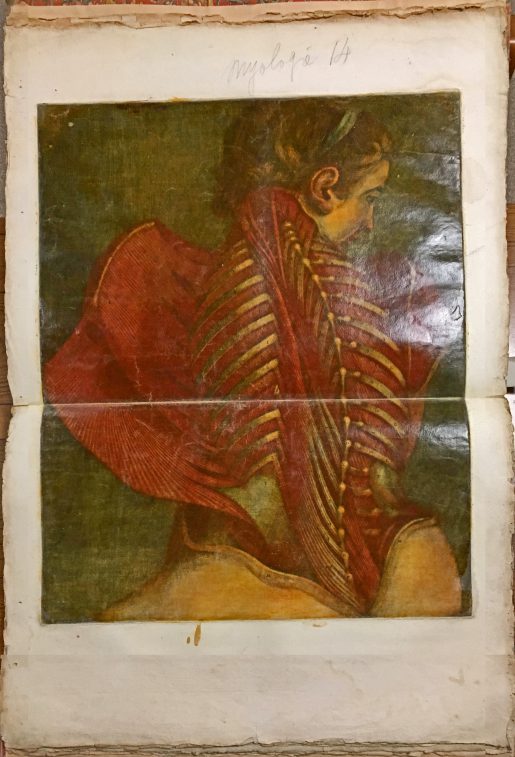 The "Flayed Angel" (also known as the "Anatomical Angel") comes from Myologie Complete (1746), an anatomical atlas by Gautier D'Agoty. The large color plate (46 cm x 60 cm), printed across two folio leaves, is one of the biggest illustrations in the Falk Library collection. In it, a woman appears alive despite the fact that the dissector pulled away muscles like wings to reveal her spine. This beautiful rendering of a dissected body is one of 20 illustrations produced by this new printing technique, which consisted of a base etching and a mezzotint engraving of a copper or metal plate in which four separate impressions were made from black, red, yellow, and blue plates to give the final image its colors. Read more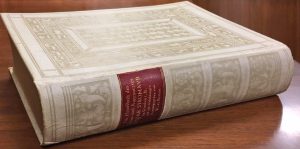 The book, Die Handschrift des Schnitt- und Augenarztes Caspar Stromayr in Lindau im Bodensee (Berlin 1925), in Falk Library's Rodnan Room, is neither very old nor very rare. Its importance is that it brings to our attention an early ophthalmology text by Caspar Stromayr that was never published before. Read more

John K'eogh (1681-1754) was an Irish naturalist and the author of Botanologia Universalis Hibernica (1735), an early Irish herbal, and Zoologia Medicinalis Hibernica (1739). His intent with both works was to show that his country was self-sufficient to produce all remedies to cure the locals of any sickness without the need to import foreign medicines.
Zoologia Medicinalis Hibernica, owned by Falk Library, is quite rare. It is bound in a modern Morocco leather, with gilded lettering on the spine. The paper used by the Irish printer might have come from the local mill, but one used by a binder has a clearly visible watermark of "Maid of Dort" which ties in to a Dutch master papermaker of the 18th century.
The book on the medicinal virtues of animals, written before the standardization of FDA regulations or the need to prove efficacy, offers information on remedies in a typical hearsay fashion for the times. K'eogh is familiar with medical classics. He cites Galen, Avicenna, and Rhases. He also refers to earlier naturalists such as Pliny the Elder, Albertus Magnus, Johann Hartmann, Jan Jonston, Ulisse Aldrovandi, and others. Read more
The Gout Collection at Pitt is the legacy of Gerald Rodnan (1927-1983), a former professor at the School of Medicine. Among its many rarities is a small leaflet, Doctor Rogers's Oleum Arthriticum or Specific Oil for the Gout, published in 1735. Read more
Camillo Golgi (1843-1926) was an Italian pathologist associated with the University of Pavia, where he studied and worked as professor of histology, chair of pathology, and dean and rector of the University. He is known for his work on the central nervous system, for which he was awarded the Nobel Prize in Physiology or Medicine in 1906, and which he shared with Santiago Ramón y Cajal.
While studying at the University of Pavia, under the influence of Cesare Lombroso, Golgi started his scientific career researching mental diseases, but quickly abandoned psychiatry in order to study the structure of the nervous system. Though tissue staining techniques in histological research were introduced in the mid-19th century, they were not sophisticated enough for investigating the nervous system. Golgi started his search for a better technique and ultimately discovered staining using potassium dichromate and silver nitrate (mentioned by him in 1873). This revolutionary technique of "black reaction," later named after him (Golgi staining or Golgi impregnation), allowed for the first time a clear visualization and description of nerve cells. This discovery was a critical point in the development of modern neurology. Though Golgi himself could not see beyond the "reticular theory" (the belief that the nervous system consists of nervous fibers forming an intricate but continuous network), his work led to the establishment of neurons as a basic cell unit of the nervous system. He will be remembered as a man who pushed neurological research forward. Read more
» Next Entries