The National Institutes of Health invites your feedback on the newly redesigned ClinicalTrials.gov database. The beta version is available for user testing for at least one month and can be accessed from the "Try our beta test site" link in the upper left corner of the ClinicalTrials.gov homepage or directly at https://clinicaltrials.gov/beta/. Please submit your comments by clicking on the Give us feedback link in the upper right corner of the beta site.
New search features include:
Filters
Show/Hide Columns
Saved Studies
"Basic Search" has been replaced with "Fielded Search." This enhanced search feature provides more category choices, such as Conditions/Diseases and Study Location.
The content under the "Find Studies" menu and "How to Search" pages is still under construction and not available for testing.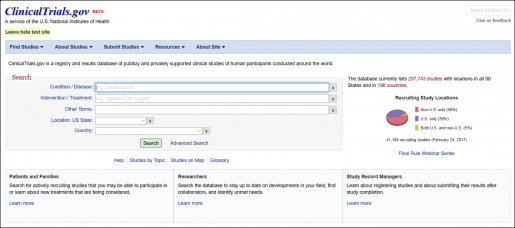 Posted in the March 2017 Issue