ImpactStory.org has released the first altmetrics report for researchers needing a simple, concise way to illustrate their immediate scholarly impact. Also known as altmetrics, measures of current online interaction with publications, such as tweets, blog posts, and open access statistics are summarized in the Overview by Global Reach, Greatest Hit, and Follower Frenzy. For example, under Global Reach, "Your research has been discussed in 7 countries. That's high: only 29% of researchers have their work as widely discussed." Curious? Click to drill down to the text of every message. While the Overview is an excellent screenshot for altmetrics and can be used as a summary for a performance review, don't miss the other sections: Achievements, Mentions and Publications. ImpactStory.org has partnered with ORCID.org to make this service free, fast, and accurate.
Follow these steps to get your ImpactStory:
If you do not already have an ORCID iD, get a free ORCID iD through Pitt's ORCID portal. (Please register for your ORCID iD through Pitt's portal so that it will be connected to Pitt's information systems for future services.)
Visit ImpactStory.org. Click on the blue button "Join for free with ORCID."
Enter your e-mail address and ORCID password in the ORCID authorization form for ImpactStory, and click on the Authorize button in lower right.
Done! Your new ImpactStory will now appear!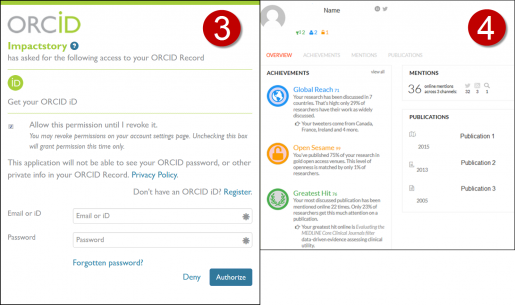 If you have any questions about ImpactStory or ORCID, please contact Andrea Ketchum at ketchum@pitt.edu or 412-648-9757.
~Andrea Ketchum
Posted in the May 2016 Issue