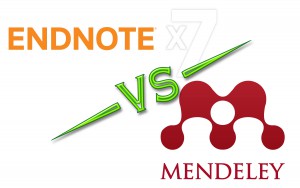 You may be wondering: Which software is best to use to organize PDFs and create bibliographies: EndNote or Mendeley? The librarians at HSLS have created an easy-to-use EndNote vs. Mendeley Guide to help direct your choice.
The two products are comparable on some but not all major features. Choose which software is best based on the features most important to you. For example, both EndNote and Mendeley work with Word to insert formatted citations into documents to create bibliographies, however only EndNote can retrieve full-text PDFs for journal citations contained in your existing EndNote library and only Mendeley includes research discovery tools and social networking features.
Comparisons also include: finding and working with references, formatting citations, sharing references with others, working with PDFs, and more.
For more information, contact the HSLS Main Desk at 412-648-8866 or Ask a Librarian.
~Melissa Ratajeski
Posted in the May 2016 Issue