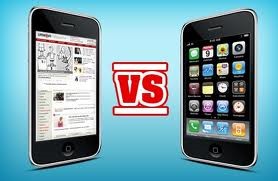 If you like to access medical information on your mobile device, then you may be familiar with the UpToDate Mobile App or AccessMedicine Mobile. While both are accessible on a mobile device, did you know that their access points are very different? The UpToDate Mobile App is a mobile application (app) and AccessMedicine Mobile is a Web site. In a nutshell, an app operates separately from a Web site, while a mobile Web site is just a variation of an existing Web site.
Mobile Apps
A mobile app is a software application that you download from the Apple iTunes Store, Google Play Store, or Windows Store to your mobile device. Some apps don't require Internet access to run since they reside on your mobile device, while others do require Internet access to run or to complete some tasks, like updating information. While some apps are free, others require a small (or sometimes hefty) fee. Mobile apps are popular because they are designed specifically for the small size of mobile devices and provide a user-friendly experience.
Mobile Web Sites
In the past, most Web site pages were static. They did not adjust to the smaller screens of mobile devices and viewing them was difficult without manually resizing and scrolling. Today, mobile Web sites are often built using responsive design. No matter what device you use, the display fits the screen. Mobile Web sites are compatible across devices, regardless of whether the device is made by Apple, Motorola, or Samsung. Unlike mobile apps, there's no manual updating. Access to mobile Web sites is often free, but some are fee-based.
HSLS Mobile Resources
HSLS databases with mobile apps include UpToDate, First Consult, Micromedex, and STAT!Ref. HSLS databases with mobile Web sites include AccessMedicine, AccessSurgery, CINAHL, and ISI Web of Knowledge.
For more information on HSLS databases with mobile apps and mobile Web sites, see the HSLS Mobile Resources Web site. For questions, call the Falk Library Main Desk at 412-648-8866 or send an e-mail to Ask a Librarian.
~Jill Foust
Posted in the July 2014 Issue