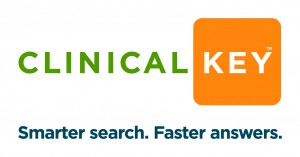 ClinicalKey is the new clinical reference resource from Elsevier and the replacement for MD Consult. Elsevier developed ClinicalKey around three key requirements—comprehensiveness, trusted content, and speed to answer—which they identified in a study of over 2,000 physicians. As with MD Consult, ClinicalKey offers access to multiple content types—including e-books, journals, videos, and images—from a single interface. However, the breadth of content in ClinicalKey is far greater:
| | | |
| --- | --- | --- |
| Content Type | ClinicalKey | MD Consult |
| E-books | 1,100+ | 89 |
| Journals | 575+ | 54 |
| Videos | 13,000+ | 3,600 |
| Images | 5,000,000+ | 50,000+ |
In addition, ClinicalKey includes a wider collection of the Clinics series, as well as First Consult, Elsevier's evidence-based point-of-care tool.
A sample results page from a search for "viral hepatitis" is shown below: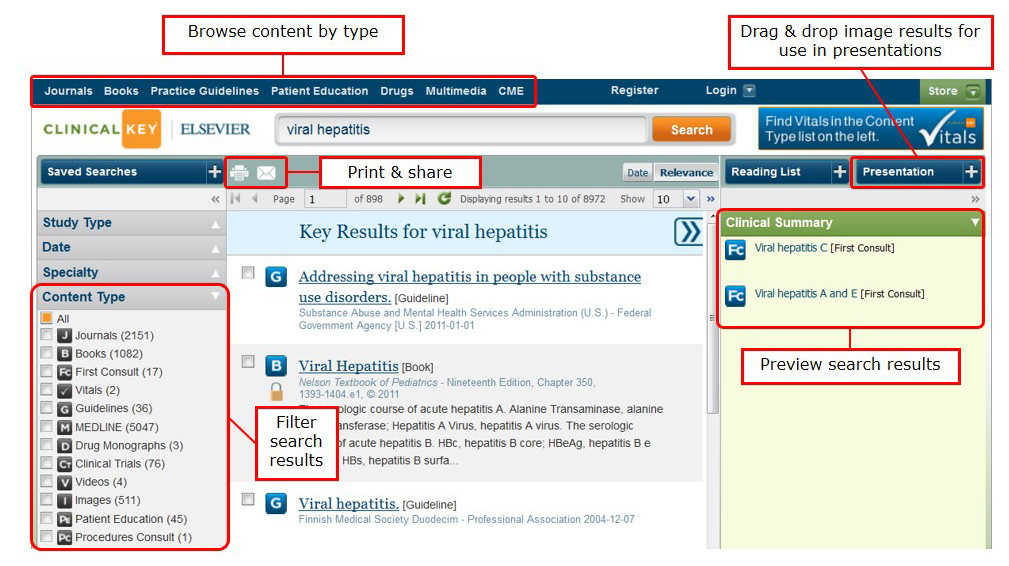 Pointing your mouse at a search result in the center panel will reveal a double arrow. Click on the arrow to preview the content in the right panel—without losing your search results list. To view the full content, click on the title of the search result.
Need images for a presentation? You can drag and drop image results to the Presentation button, or you can select images from the results list by clicking on the check boxes and then clicking on the "+" sign next to the Presentation button. Click the Presentation button to open the Presentation Maker, where you can organize images and export them to PowerPoint.
You will need to create a personal ClinicalKey account to fully use the Presentation Maker, as well as save searches, create a reading list, or earn CME credit.
Need some time to transition? ClinicalKey is available now, but MD Consult will remain available until November 30, 2013.
For more information, contact the HSLS Main Desk at 412-648-8866 or Ask a Librarian.
*Parts of this article were derived from the ClinicalKey promotional flyer and quick reference card.
~ Jeff Husted
Posted in the September 2013 Issue