Many of us use PubMed daily and have grown accustomed to its features and ease of use. Since PubMed's original release in 1997 enhancements continually occurred with little change to the user interface. However, in December 2018 the National Library of Medicine (NLM) will transition from the current PubMed to a new interface called PubMed 2.0!
So how are we going to get to PubMed 2.0?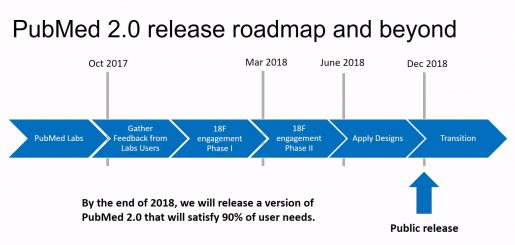 In September 2017, NLM released PubMed Labs, an experimental site to test new technologies, features, and directions for PubMed.
PubMed Labs has already led to behind-the-scenes changes in PubMed 2.0.
These changes include a single xml model for PubMed; PubMed Central and Bookshelf data; replacing a homegrown system with an open source database system, Solr, running in Google Cloud; and supported by Amazon Web Services.
New features in PubMed Labs illustrate NLM's commitment to creating a good design that enhances user experience.
For instance, in PubMed's current interface users rarely go to page 2 of search results and 80% of the clicks occur in the first 20 records. Knowing this, PubMed Labs display/sort feature is set to a "Best Match algorithm" instead of to the traditional "Most Recent" sort.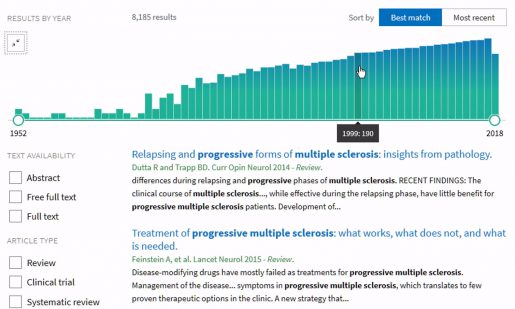 Some of the many new features in PubMed Labs include:
an abstract snippet on the summary results page that reflects words in the user query;
"facets" to help narrow your search;
ability to select a single year or a range of years within a "Best Match" sort; and
easy toggle between "Best Match" & "Most Recent" sort.
To learn more about PubMed 2.0:
Try out PubMed Labs and watch "PubMed Labs" by Kathi Canese, from the National Center for Biotechnology Information (NCBI). This presentation is just over 19 minutes long and was presented at the Medical Library Association Annual Meeting in May 2018.
Read: N. Fiorini, D.J. Lipman, and Z. Lu, "Towards PubMed 2.0," Elife, October 30, 2017: 6. pii: e28801. doi: 10.7554/eLife.28801. PMID: 29083299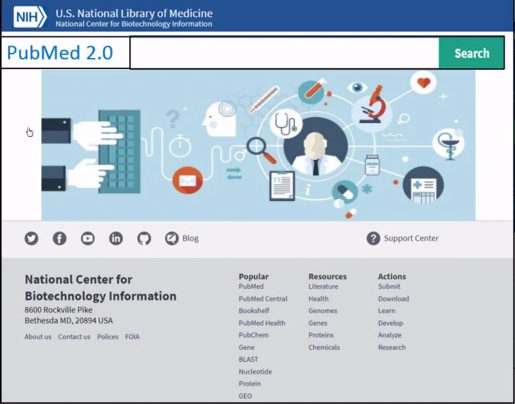 When the time arrives, watch for PubMed 2.0 classes @ HSLS.
*Images and the basis of this article's content are derived from Kathi Canese's presentation, "PubMed Labs."
~Charlie Wessel
Posted in the August 2018 Issue