PubMed and PubMed Central (PMC) now offer filters to limit a search to only those articles or citations that include related data links, supplemental material, data citations, or a data availability or data accessibility statement.
The filters, detailed below, can be combined with any search by simply adding the Boolean operator "AND" and the specific filter into the search box (see the screenshots below for example syntax; the filters are highlighted in yellow).
PubMed

Use data[filter] to find citations with related data links in either the Secondary Source ID field or the LinkOut – more resources field (both located below the abstract).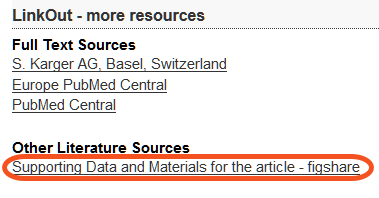 Data links could point to items such as the corresponding study record in ClinicalTrials.gov, or to locations for direct download of data through external data repositories such as figshare or Dryad, or through NLM databases such GEO or dbGaP.
PubMed Central Filters

Alternatively, use has associated data[filter] to find all articles with any type of data section described above.
For help with using these filters or for general questions about locating and citing data, please contact HSLS Data Services or request the class Locating and Citing Research Data for your group.
*Parts of this article were derived from the NLM Technical Bulletin.
~ Melissa Ratajeski
Posted in the July 2018 Issue
Tags: data-management