May 2016
» Next Entries
No need to delay producing an Author Citation Report. HSLS has the help you need in the HSLS Research Impact Guide. Using Web of Science, you can easily create an Author Citation Report, including calculation of an author's h-index.
To get started, go to the Research Impact: Impact Metrics Guide on the HSLS Web site. From there, the automatic Guide on the Side tutorial leads you through the process of creating an Author Citation Report in Web of Science. Read more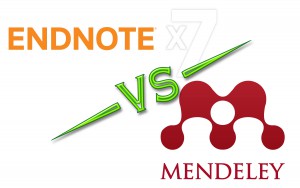 You may be wondering: Which software is best to use to organize PDFs and create bibliographies: EndNote or Mendeley? The librarians at HSLS have created an easy-to-use EndNote vs. Mendeley Guide to help direct your choice. Read more
University researchers are invited to complete the University of Pittsburgh's Data Management Survey. The purpose of this survey is to gain a better understanding of research data held at the University. The responses collected will inform the University's Data Management Committee, which was created to examine the University's needs regarding managing, storing, sharing, and archiving research data. The committee will explore how the University might best meet those needs and report its findings and recommendations to the Office of the Provost. You may visit http://pi.tt/datasurvey to complete the survey. Read more
ImpactStory.org has released the first altmetrics report for researchers needing a simple, concise way to illustrate their immediate scholarly impact. Also known as altmetrics, measures of current online interaction with publications, such as tweets, blog posts, and open access statistics are summarized in the Overview by Global Reach, Greatest Hit, and Follower Frenzy. For example, under Global Reach, "Your research has been discussed in 7 countries. That's high: only 29% of researchers have their work as widely discussed." Curious? Click to drill down to the text of every message. While the Overview is an excellent screenshot for altmetrics and can be used as a summary for a performance review, don't miss the other sections: Achievements, Mentions and Publications. ImpactStory.org has partnered with ORCID.org to make this service free, fast, and accurate. Read more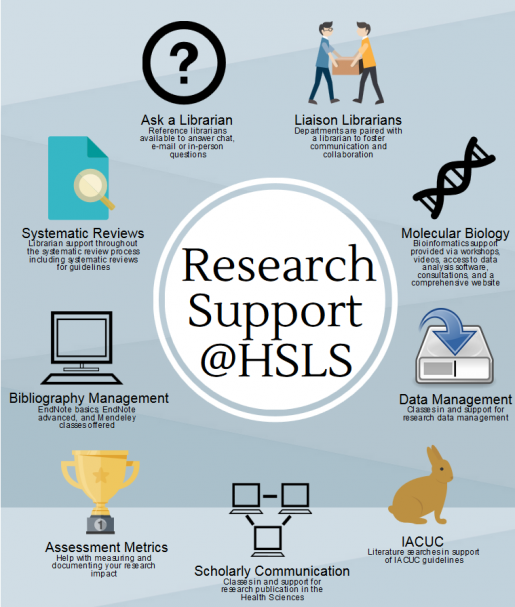 For a quick and easy way to find out what services Falk Library's Research, Instruction & Clinical Information Services Department has to offer, visit the HSLS home page and take a look at the new infographics for research support, instruction support, and clinical support. Click on any of the images and you'll go to the infographic for that service. From the infographic, you can then click on any of the links and go directly to the related part of the HSLS Web site for more specific information about that service. Read more
Group Study Rooms in Falk Library are a popular service, providing space for quiet study or group collaboration. A new online system was implemented in February to make online booking more robust. Powered by LibCal, the new online booking Web site provides a new look and features, including: Read more
The National Library of Medicine's (NLM) PubMed was born in the month of January 1996 when it was released as an experimental database under the Entrez retrieval system. Its experimental status was dropped in April 1997 just before its christening. On June 26, 1997, Senator Tom Harkin (D-IA) and Senator Arlen Specter (R-PA) held a press conference to announce free Web-based access to MEDLINE through PubMed and Internet Grateful Med. At this briefing the honors to demonstrate PubMed fell upon Vice President Albert Gore. Read more
The National Library of Medicine recently announced the launching of MedPix®, a free online medical image database. The MedPix® collection categorizes and classifies the image and patient data for each of several subsets of image database applications (e.g., radiology, pathology, ophthalmology, etc.). The content includes both common and rare conditions. Contributed content may be copyrighted by the original author/contributor. Read more
The HSLS Staff News section includes recent HSLS presentations, publications, staff changes, staff promotions, degrees earned, etc.
News Read more
» Next Entries