June 2015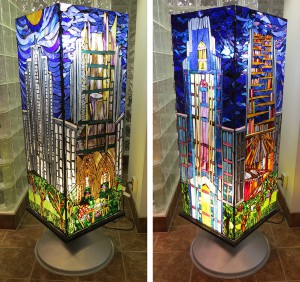 A spectacular glass mosaic, featuring the Cathedral of Learning, now graces Falk Library's entry way. This one of a kind piece was created by notable local artist Daviea Davis as part of her Pillars of Light Project.
Although dreamed about for some time, this project came to realization when Davis's entry was accepted for the Phipps Conservatory and Botanical Gardens 2013 summer flower show themed "Glass in the Gardens." Her vision was to create spinning, illuminated, glass pillars; each expressing a local nonprofit. Read more
Do you need to scan a document or journal? Are you frustrated with slow equipment and cumbersome software? HSLS is pleased to introduce the solution to your scanning woes: the Scannx Book ScanCenter.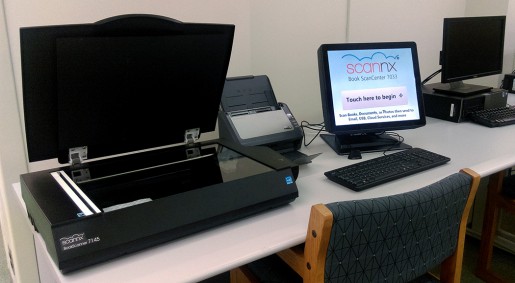 With a touch-screen interface and rapid scanning technology, Read more
HSLS librarians were active participants in the Medical Library Association's Annual Meeting held in Austin, Texas, from May 15-20, 2015.
Annual Janet Doe Lecture
Barbara Epstein, HSLS director, presented the annual Janet Doe Lecture. This annual award supports a lecture by a distinguished member of the profession who will offer a unique perspective on either the history or philosophy of medical librarianship. The Janet Doe Lecture is one of the highest honors the Medical Library Association offers. Her lecture was titled, "In Their Own Words: Oral Histories of Past MLA Presidents." Read more
Early publishers of medical books were always eager to adopt technological novelties in photography to enhance the educational power of a text. Therefore, it is not surprising to find a book with the Woodburytype print in our collection. Read more
The HSLS Staff News section includes recent HSLS presentations, publications, staff changes, staff promotions, degrees earned, etc.
Presentation
Lydia Collins, consumer health coordinator, NN/LM Middle Atlantic Region, presented "I Read, I Heard, I Want to Know: Health Issues in the Headlines" at the Delaware/Maryland Library Association Annual Conference in Ocean City, MD on May 7, 2015.
HSLS offers classes on database searching, software applications such as Prezi, bibliographic management, molecular biology and genetics, and library orientations. For more information, visit the online course descriptions. Read more