August 2014
» Next Entries
Once upon a time there were ten research studies with very similar hypotheses and methodologies. In nine of them, the results came out "negative" so the researchers never submitted their studies for publication. The researcher who reported "positive" results did publish the results.
What happens to the lessons learned from the "negative" studies? The results include information that can contribute to the knowledge base of that discipline. Unfortunately, it will not be shared because there is a perception that negative results are not publishable. As a result, time and money will be spent by other research teams repeating previous work. What about the study participants who have given their time and effort to contribute to the knowledge base? When results are not published their endeavors are wasted. Is this ethical? Read more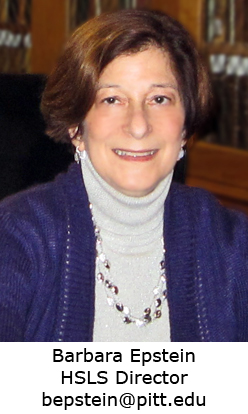 There are many different types of new year celebrations: calendar new year, fiscal new year, Chinese new year, Persian new year, Jewish new year, and more. On a college campus, though, the beginning of the fall term in August and September always seems like the real new year. We welcome new and returning students and faculty to the bustle of new classes, new projects, new friends, and new challenges.
At the Health Sciences Library System (HSLS), librarians spent the summer preparing orientations and classes, and freshening Web portals, and user guides. Please take a few minutes to explore our home page, Read more
On September 29, 2014, HSLS will host the National Library of Medicine's exhibit, "And There's the Humor of It" Shakespeare and the Four Humors at Falk Library.
William Shakespeare (1564–1616) created characters that are among the richest and most humanly recognizable in all of literature. Yet Shakespeare
I have been a member of the Joint Legislative Task Force of the Medical Library Association and the Association of Academic Health Sciences Libraries for five years. We visit Capitol Hill every spring to meet with staff of our senators and congressional representatives to advocate for NIH funding and research support, and specifically for the National Library of Medicine, an institute of the NIH. This year's visit was especially productive, as my colleagues and I were invited to attend Senator Casey's monthly Keystone Coffee breakfast, to speak with the Senator directly. It was fun to roam the halls of the Capitol and the congressional office buildings Read more
Are you publishing research in an Elsevier journal? If so, jumpstart the dissemination of your newly published article by sharing it with colleagues through e-mail or by posting it on social media—all with permission from Elsevier, one of the world's largest academic publishers. In a new twist, Elsevier is now encouraging authors to share newly published articles, but under the terms of Elsevier's new Share Link service. Read more
There is probably no other medical discipline so tightly tied to art as anatomy. The link between the two disciplines is bilateral. Ancient sculptor Myron applied his knowledge of anatomy to render the perfect movement in his sculpture, Discobolus. And without artists would we have the incredible illustrations that aid in the study of anatomy? Falk Library has a superb collection of old anatomical atlases. With the help of these historical books, it is easy to study the relationship between the artist and the anatomist. From the gracefully posed skeleton in the Vesalius's De Humani Corporis (1543) and whimsical backgrounds in Albinus's Tabulae Anatomicae (1747) to Gautier Dagoty's color mezzotint in Myologie Complete (1746) and anatomical dioramas in Ruysch's Opera Omnia (1721), the examples from our collection can prove that the dividing line between the two disciplines is sometimes blurred. When artist and anatomist are one, the old medical books truly shine. Read more

The National Institutes of Health (NIH) recently launched the NIH 3D Print Exchange, a public Web site that enables users to share, download, and edit 3D print files related to health and science. These files can be used, for example, to print custom laboratory equipment and models of bacteria and human anatomy. The NIH 3D Print Exchange also provides video tutorials and additional resources with instruction on 3D modeling software to enable users to customize and create 3D prints. Read more
News
Rose Turner, MLIS, joined HSLS as a Reference Librarian on August 1. Rose received her MLIS from Wayne State University, and earned a BS degree from the University of Michigan. She worked for a number of years as a Project Manager for Hewlett-Packard, and more recently was a Graduate Student Intern at the University of Colorado Health Sciences Library. Read more
» Next Entries