June 2014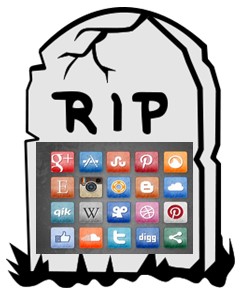 It's important to plan ahead for end-of-life decisions. A last will and testament dictates the distribution of your assets upon your death. Advance directives, a living will, and power of attorney describe your health care wishes if you are unable to participate in your own care.
Have you ever thought about what happens to your Facebook profile, your Flickr pictures, and all of your online service accounts, not to mention your social media persona upon your demise? Read more

The Journal Citation Reports (JCR)  database is now a part of Thomson Reuters' new InCites platform. InCites provides comprehensive journal and article metrics, and includes JCR and its companion database, Essential Science Indicators. Read more
UpToDate has recently made several enhancements to their product. These include a new user interface, expanded search results, redesigned topic outline, and more reading area. To learn more about these and other UpToDate changes, view the three minute video below or read about the new enhancements. Read more
Imagine replicating a scan of a patient's heart for tangible examination before surgery. Researchers may envision a microscopic tool that is essential to their field of research. Perhaps there's a small adjustment to an ordinary item that would make the life of a child with disabilities that much easier. These are the types of innovations that 3D printing is making possible for the community at large. Read more
Animal magnetism is a healing system based on the belief that the existence of a universal magnetic fluid is central to the restoration and maintenance of health. The basic principles were articulated in Franz Anton Mesmer's Mémoire sur la découverte du magnétisme animal, published in 1779. Mesmer was not successful in gaining support from the medical establishment in Vienna, so he relocated to Paris where he operated two treatment clinics. Read more
HSLS librarians actively participated in the Medical Library Association's (MLA) Annual Meeting held in Chicago, Ill., from May 16-21, 2014.
Contributed Papers
Linda Hartman, reference librarian, presented "Faculty Development Series: Teaching Enhancement for Instruction Librarians." Co-authors were Reference Librarians Rebecca Abromitis and Ester Saghafi, and Reference & Information Technology Librarian Patricia M. Weiss. Read more
The HSLS Staff News section includes recent HSLS presentations, publications, staff changes, staff promotions, degrees earned, etc.
News
Michelle Burda, network and advocacy coordinator, NN/LM Middle Atlantic Region, was appointed to the VALUES2 Initiative Committee of the Medical Library Association's Hospital Section. Read more
HSLS offers classes on database searching, software applications such as Prezi, bibliographic management, molecular biology and genetics, and library orientations. For more information, visit the online course descriptions. Read more