2008
» Next Entries

Take a break and come listen to the holiday sounds of the PalPITTations, an a cappella vocal group made up of medical students from the University of Pittsburgh School of Medicine.  The PalPITTations will perform on Friday December 12 at 12:15 p.m. on the first floor of Falk Library, 200 Scaife Hall.  All are welcome for this free concert.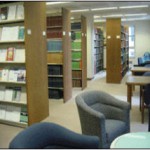 The Library of Western Psychiatric Institute & Clinic (WPIC) will close permanently on Friday, December 19, 2008.  In the future, reference consultation and educational services will be available to the WPIC community through Falk Library. Read more
WPIC videos are now available at Falk Library.  Other materials from the WPIC print collection will be available by request during this transition period.  The information below describes the process for obtaining these materials depending on your affiliation. Read more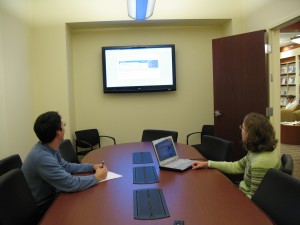 A new conference room with seating for 10-12 people is now available at UPMC Shadyside Libraries.  The Q & A's below will help you plan for future meetings or classes.
Who can reserve the room?
UPMC Shadyside clinical staff and faculty can reserve the room for use during regular library hours (Monday – Friday 8 a.m. – 6 p.m.). Read more
Classes will now be offered in the new conference room in the Shadyside libraries.  Class topics will include database searching, software applications such as PowerPoint, and molecular biology and genetics.  Please check the UPMC Extra and HSLS class calendar for scheduled dates and topics. Read more
As of January 1st 2009, CINAHL, the nursing and allied health bibliographic database, will be available only through the EBSCOhost search interface. Though the look and "feel" of the EBSCOhost interface is different from that of CINAHL's current OVID interface,  users will continue to have access to CINAHL's familiar search tools. Read more
Beginning January 1, 2009, the cost for obtaining an article or book from another library, as well as the fees for scanning articles by library staff, will increase from $3.50 to $5.00 per request. Even though our costs have continually risen, we have not raised our fees in nine years.  This $5.00 fee, which is more in line with what other academic health sciences libraries charge, is still a bargain considering HSLS pays $11-$15 per request, plus the costs of interlibrary loan copyright royalties. Read more
The HSLS consumer health information page was highlighted on the National Library of Medicine's Web site under the Middle Atlantic Region featured projects.  The consumer health page allows for quick and easy retrieval of information on patient education and safety, service programs, HSLS consumer health collections, and more. Read more
» Next Entries