July 2019

View construction updates on the HSLS web site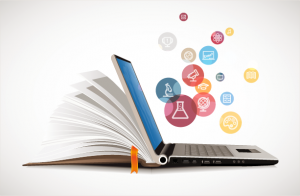 If you write scripts or use data analysis software, did you know that the Health Sciences Library System provides access to thousands of reference materials to help support research programming in the health sciences? If you want to test out software or need help interpreting a never-before-seen error message, the library's streaming videos and e-books are available to anyone with a Pitt ID, on- or off-campus.
LinkedIn Learning (formerly known as Lynda.com) provides video tutorials, transcripts, and exercises for popular data analysis and statistics software. Need an introduction to SPSS? Try the SPSS Statistics Essential Training course to learn the basics, or focus on quantitative tests in SPSS for Academic Research course. Dive deep into SAS with a multi-part series of SAS Essential Training: Descriptive Analysis for Healthcare Research and SAS Essential Training: Regression Analysis for Healthcare Research. Introductions to Stata and MATLAB are also available. Read more
Are you a biomedical researcher searching for information on genes related to a particular disease, pathway, or process? Are you overwhelmed by the vast quantity of associated literature? Have you considered that some genes are more highly investigated than others, which leads to an overabundance of literature to review for some genes as well as a scarcity of information on others?
Geneshot is a new search engine created to bridge this gap and highlight understudied genes by mining publications for mentions of any genes with the search term(s), then prioritizing the genes. Searching for a biomedical term returns two ranked gene lists. The first contains genes reported in the literature and the second contains predicted genes identified via data integration from multiple sources. The underlying data sets are from PubMed, GeneRIF, AutoRIF (more comprehensive than the former), gene-gene co-expression matrix data using ARCHS4, and gene-gene co-occurrence matrix Tagger and Enrichr data. Geneshot can also facilitate hypothesis generation by assessing gene set novelty and proposing additional relevant genes to augment gene sets. A detailed description of the mining and prediction methodology is available in the Geneshot publication.  Read more

As the saying goes, "A picture is worth a thousand words." While it can take hundreds or thousands of words to convey a complicated concept; a single image can easily do the same thing. OPEN-i® is the open access biomedical image search engine from the National Library of Medicine's Lister Hill Center for Biomedical Communications. OPEN-i® is unique in its ability to index both the article's text and images from the open source literature and biomedical image collections. OPEN-i® searches and retrieves both abstracts and images (including charts, graphs, clinical images, etc.) Read more
The HSLS Staff News section includes recent HSLS presentations, publications, staff changes, staff promotions, degrees earned, etc.
Names in bold are HSLS-affiliated
News
Welcome to Anthony Harris, Assistant Learning Management System Developer. Anthony recently graduated from the University of Pittsburgh with a Bachelor of Science in Information Science and will be working with both the NNLM Web Services Office (NWSO) and the NLM All of Us Research Program Training and Education Center (TEC).
Tessa Zindren joined the staff of the National Network of Libraries of Medicine, Middle Atlantic Region, as Program and Outreach Assistant. Tessa will be responsible for maintaining outreach materials, responding to member and staff requests, and reporting to internal and external stakeholders. She has a Bachelor of Science in Business Administration with a major in Marketing from Pitt and was most recently Project Manager at AMG Research.
Publications
M.A. Bowman, D.J. Buysse, J.E. Foust, Research and Instruction Librarian, et al., published "Disturbed Sleep as a Mechanism of Race Differences in Nocturnal Blood Pressure Non-Dipping," in Current Hypertension Reports, 21(7), May 22, 2019. Read more
Painless PubMed, Tuesday, July 2, 9–10 a.m.
Single Cell Transcriptomics, Wednesday, July 10, 10 a.m.–12 p.m. (morning session) and 1–4 p.m. (afternoon session)
Reporting Guidelines: A Pathway to Transparent Writing Equals Better Results, Thursday, July 11, 10–10:30 a.m.
Basic EndNote, Monday, July 15, 9:30–10:30 a.m.
Painless PubMed, Tuesday, July 16, 9:30–10:30 a.m.
Bioinformatics Data Analysis: Options 4 Rigor, Tuesday, July 16, 12–1 p.m.
Gene Expression Visualization, Wednesday, July 17, 1–4 p.m.
Basic Python through Jupyter, Thursday, July 18, 1–4 p.m.
Advanced EndNote, Friday, July 19, 10–11 a.m.
Visualized Searches: VOSViewer for Literature Analysis, Friday, July 19, 12–1 p.m.
ChIP-Seq & Partek Flow, Tuesday, July 23, 1–4 p.m.
Introduction to Data Management, Wednesday, July 24, 10–11 a.m.
Research Metrics and Publication Reports: Showcasing Impact, Tuesday, July 30, 4–5 p.m. Read more