May 2019
Do you need to analyze NGS data but don't have the computational power on your laptop or desktop to run it locally? The HSLS Molecular Biology Information Service (MBIS) and HSLS Technology have loaded two laptops with all current MBIS software (see figures below). They can be borrowed from the HSLS Technology Help Desk with a valid Pitt ID for use both within and outside of the library. The laptops can be checked out for four hours and are renewable online, but must be returned before the library closes. Read more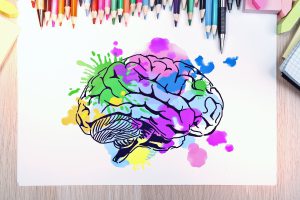 Want to de-stress and win a neuro-themed prize? You're invited to compete in a 'brainy' coloring contest—one of the related activities surrounding the ongoing Art on the Brain exhibit at Falk Library.
Why a coloring contest? Coloring allows anyone to be creative, and there's no right or wrong technique. And despite what you learned as a child, you can even feel free to color outside the lines! Plus, briefly moving the focus of your busy brain away from your screens to engage in the simple act of coloring can be relaxing, fun, or even meditative. Read more
At the end of April, Barbara Folb, Public Health Informationist, retired after a long, successful career at HSLS.
Folb is the third of four generations with a connection to Pitt. Her great uncle, Max Lauffer, was the founding chair of the Department of Biophysics at Pitt. Her mother graduated from Pitt with a degree in Spanish, Folb received an MLS and an MPH, and her daughter earned an MLIS degree. Read more
It's that time again—finals week—and the library is bursting with students studying, writing papers, and finishing research projects. HSLS called upon our furry, four-legged friends to give health sciences students a stress-free study break. Over 80 students filled our conference room with smiles and laughter while enjoying the company of Mosie and Hava, both Portuguese water dogs, and Blue, a golden retriever. HSLS would like to thank Rick Oberndorf and Melissa Saul, the pet handlers who volunteered their time to this effort.
With a focus on creating, a second study break allowed students to dabble in art activities related to the brain. Attendees chose from a variety of paint, playdoh, yarn, beads, pipe cleaners, and straws to create art pieces such as inkblots and crafty neurons. Read more
The HSLS Staff News section includes recent HSLS presentations, publications, staff changes, staff promotions, degrees earned, etc.
Names in bold are HSLS-affiliated
Datasets
Melissa Ratajeski, Coordinator of Data Management Services, Emily Mazure, UNC Health Sciences at MAHEC, Karen Gau, Tompkins-McCaw Library for the Health Sciences, Virginia Commonwealth University, et al., have deposited "Differences between the PubMed Record and Full-Text Methods Section in In-Vivo Animal Research Articles" into the public data repository, figshare. The dataset is also accessible in the Pitt Data Catalog.
Publications
Ansuman Chattopadhyay, Assistant Director for Molecular Biology Information Service, Carrie L. Iwema, Coordinator of Basic Science Services, Barbara A. Epstein, HSLS Director, Adrian Lee, Professor and Pittsburgh Foundation Chair in Precision Medicine, and Arthur S. Levine, Senior Vice Chancellor for the Health Sciences and John and Gertrude Petersen Dean of the University of Pittsburgh School of Medicine, published "Molecular Biology Information Service: An Innovative Medical Library-Based Bioinformatics Support Service for Biomedical Researchers" in Briefings in Bioinformatics, April 5, 2019. Read more
Painless PubMed, Thursday, May 9, 12–1 p.m.
Infographics: Sharing Information Visually, Monday, May 13, 10–11 a.m.
Introduction to Image Editing: Adobe Photoshop and Illustrator, Tuesday, May 14, 2–3 p.m.
Bulk RNA-Seq, Wednesday, May 15, 1–4 p.m.
Introduction to Adobe Illustrator for Diagrams, Monday, May 20, 10–11:30 a.m.
Painless PubMed, Tuesday, May 21, 8–9 a.m.
Crafting a Data Management Plan , Tuesday, May 21, 12–1 p.m.
Basic EndNote, Wednesday, May 22, 3–4 p.m.
Graphic Design with Canva, Wednesday, May 29, 2–3 p.m.
The Western Pennsylvania Regional Data Center: Making Public Information Easier to Find and Use, Thursday, May 30, 10–10:30 a.m. Read more