February 2019
» Next Entries
You can now easily access recorded lectures, video protocols, healthcare training guides, and other health sciences videos on HSLS's new Streaming Media website. From this central site, you can navigate to databases that house thousands of instructional videos produced by the wider health sciences community, such as AccessMedicine, ClinicalKey, and Bates' Visual Guide to Physical Examination. On-campus users can view these videos without providing additional login information, but off-campus access will prompt a Pitt Passport login. You can also find links to HSLS's YouTube channel to view lectures given by visiting scholars or watch workshops presented by Pitt postdoctoral fellows. Read more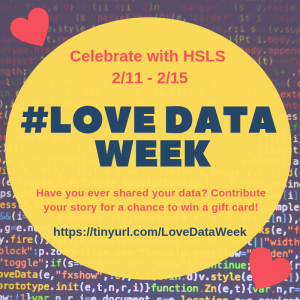 The week of February 11–15, 2019, is Love Data Week. To celebrate, HSLS Data Services will be hosting a variety of activities, workshops, and giveaways throughout the week. Stop by the library to engage with colleagues and librarians and learn best practices and tips for loving your data.
Workshops (registration required for all but Friday's drop-in session):
Introduction to Tableau for Data Visualization, February 11, 9 a.m.–10 a.m. Read more
Unsung heroes—women physicians who were rejected from the U.S. Medical Corps but decided to join the efforts of World War I anyways. These women, who were eager for the chance to serve their country and advocate for their capabilities as medical professionals, are the subject of a traveling exhibit by the American Medical Women's Association (AMWA). Falk Library is now hosting the exhibit of photographs, books, and a 15-minute video that details their remarkable stories.
One such physician, Esther Pohl Lovejoy, MD, started a humanitarian relief program in WWI for families affected by the war called the American Women's Hospitals Service. Dr. Lovejoy would later write, "Our Government provided for the enlistment of nurses, but not for women physicians. This was a mistake. It is utterly impossible to leave a large number of well-trained women out of a service in which they belong, for the reason that they won't stay out." She went on to direct the American Women's Hospitals Service for 47 years, and was awarded the keys to the city of Retimo for her service in Greece. Her story and others are highlighted in the online exhibit materials by the AMWA that accompany the onsite exhibit display. Read more
Journals added to the HSLS online collection for 2019 include:
Aging Clinical and Experimental Research
Cancer Treatment and Research Communications 
Evidence-Based Practice
JACC: Clinical Electrophysiology1
Journal of Alzheimer's Disease
Journal of Animal Science
Journal of Complex Networks
Journal of Language Evolution
Midwifery
Nature Biomedical Engineering
Nature Human Behaviour
Neuro-Oncology Practice
Pediatric Dentistry
Translational Stroke Research
Work, Aging, and Retirement
Availability forthcoming.
HSLS continually adds new open-access journals, so visit our E-journals A-Z list and click on "Show Select Subject" to view titles in your area of interest. Read more
You probably already know that HSLS subscribes to The New England Journal of Medicine. But did you also know that our subscription gives you free access to NEJM Resident 360?
Resident 360 is a platform for residents, fellows, medical students, and physicians that offers career advice, discussion boards, quizzes, and lots of additional information to help you as you begin your medical career. Resident 360 is broken into seven different sections, each offering information on a different aspect of medicine or residency. The sections include: Read more
There are two approaches to literature searching: improvised discovery, and structured query, each with corresponding online platforms. Discovery is fast and generates ideas, but is generally not reproducible, since it does not use controlled vocabularies. This limits its use for systematic reviews or other published research, for example. Building a query to find citable new evidence is time-consuming, but structured searches using controlled vocabularies are reproducible. Before starting a search in either type, consider your purpose: are you generating ideas? Or documenting reproducible methods? Both methods have value, and HSLS librarians can help you fit both into your research workflow. Read more
This year, NNLM MAR provided about $450,000 in subawards to Network member organizations in Pennsylvania, New York, New Jersey, and Delaware. Subawards are typically small (this year's range from just $600 to $20,000) and allow NNLM MAR to expand training of National Library of Medicine resources and increase the access to and use of high quality health information across diverse populations around the region.
Examples of funded projects include:
Library Moon Walk: Over twenty public libraries in 10 counties in New York State are getting staff training on health information resources, hosting health programming, and encouraging their patrons to track their steps in an effort to walk to the moon. The project celebrates the 60th anniversary of the Apollo 11 Moon Landing and serves as a preview for the 2019 Summer Reading Theme, "A Universe of Stories." Read more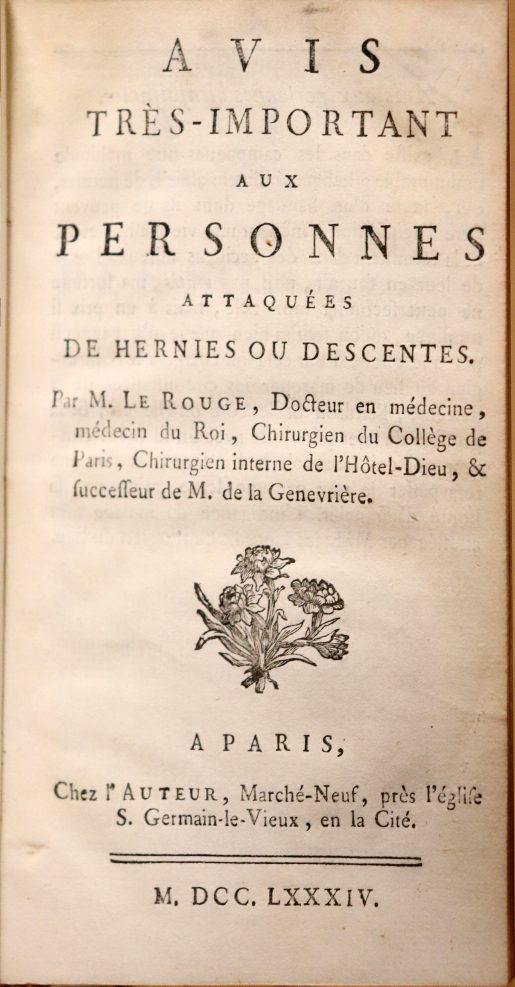 We know very little about the author of an unusual book on hernia found in the Falk Library Rare Book Collection. Jean Pierre Le Rouge was a surgeon at the College of Surgeons in Paris and at the Hôtel-Dieu in the second half of the 18th century and was the author of two books on hernias. He had 17 years of experience working at the biggest hospital in Paris, Hôtel-Dieu, when he published his first popular work Avis très important aux personnes attaquées de hernies ou descentes [Translation: Very important notice to people attacked by hernia] in 1784. A year later, in 1785, his thesis Dissertatio anatomico-chirurgica de perfecta inguinalis herniae simplicis curatione [Translation: Thesis on the treatment of inguinal hernia] appeared. Both books are very scarce.
The popular tract may be considered an early example of consumer health information. It consists of five chapters, in which the author (1) explains the causes and characteristics of different hernia types; (2) gives advice on limiting physical activities when wearing hernia trusses; (3) points out the need to wear supportive bandages or pessaries; (4) discusses palliative treatment focused on reducing hernias by means of bandages illustrated with the cases from his hospital practice; and (5) provides a composition of a plaster for the radical cure of a hernia. Read more
» Next Entries