October 2018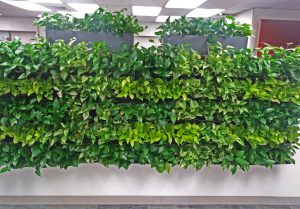 Recent visitors to the Health Sciences Library System may have noticed a new feature to the left of the circulation desk: the University of Pittsburgh's first "living wall." A living wall (sometimes called a "green wall") is a vertical arrangement of living plants placed densely together so that the wall itself appears to be made of greenery. Our living wall is composed of three varieties of Epipremnum aureum, or golden pothos, a tough-to-kill tropical vine that can survive the artificial lights and dry conditions of most offices. Over time, the pothos tendrils will twine together to conceal their scaffolding and create a leafy square of jungle. Read more
Join HSLS this fall for three new EndNote classes. Basic EndNote is an hour-long introduction to the software that will get you started adding references and using the Cite While You Write feature. Advanced EndNote will cover more in-depth topics, such as adding and editing citation styles, importing references to and from Excel, and using Smart Groups. In the EndNote for Research Teams class, we will discuss sharing libraries and groups, the manuscript matcher tool, and using Cite While You Write on a co-written article using both Word and Google Docs. Read more
Starting on October 15, Falk Library will host the traveling exhibit, Binding Wounds, Pushing Boundaries: African Americans in Civil War Medicine. The National Library of Medicine exhibit features six panels that profile the men and women who served as surgeons and nurses during the American Civil War. Their stories reflect how their service as medical providers challenged the prescribed notions of race and gender and pushed the boundaries of the role of African Americans in America. The exhibit and related materials will be on display in the library for six weeks during regular open hours. Read more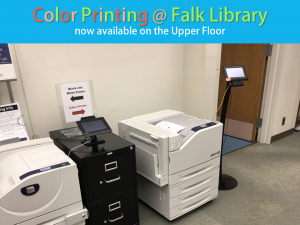 By popular demand, a color printer is now available to Pitt students and faculty at Falk Library. For the first time, color-printing access with your Pitt quota is available outside of the CSSD labs. You can find the new color printer on the library's upper floor, across from the Technology Help Desk.
Pitt students and faculty receive a $63 printing quota per semester. Color printing is $0.49 per page, while black and white printing is $0.07 per page. Double-sided printing is enabled by default. Read more
Opioid overdoses have increased dramatically in recent years. Millions of people in the United States suffer from substance use disorders. The National Library of Medicine (NLM) and the National Network of Libraries of Medicine (NNLM) have responded with increased online health information resources and training.
National Library of Medicine resources include:
HSLS is home to the NNLM regional office for the Middle Atlantic region (MAR). Many NNLM MAR constituents, especially public libraries, have responded to the crisis with public events and staff training. For example, the Reading Public Library hosted a panel discussion that included the Pennsylvania Physician General, first responders, and a mother who lost a child to the epidemic. After the public event, Lydia Collins, former NNLM MAR staff member, provided training for library staff on health information resources. Read more
The HSLS Staff News section includes recent HSLS presentations, publications, staff changes, staff promotions, degrees earned, etc.
Publications
Author name in bold is HSLS-affiliated
A. San-Juan-Rodriguez, T.V. Newman, I. Hernandez, E.C.S. Swart, M. Klein-Fedyshin, Research & Clinical Instruction Librarian, et al., published "Impact of Community Pharmacist-Provided Preventive Services on Clinical, Utilization, and Economic Outcomes: An Umbrella Review" in Preventive Medicine, 115: 145-55, August 23, 2018. Read more
HSLS Classes
Photoshop First Look, Thursday, October 4, 9:30-11 a.m.
Painless PubMed*, Wednesday, October 10, 11:30 a.m.-12:30 p.m.
Getting Systematic About Systematic Reviews, Monday, October 15, 10-11 a.m.
Basic Python through Jupyter, Tuesday, October 16, 1-4 p.m.
EndNote Basics, Thursday, October 18, 10 a.m.-12 p.m.
Introduction to the Pitt Data Catalog, Monday, October 22, 2-3 p.m.
Painless PubMed*, Tuesday, October 23, 8-9 a.m.
Trim Down Your Search: Focusing PubMed, Wednesday, October 24, 11:30 a.m.-12:30 p.m.
Wiki-PI & LENS: Web Applications Studying Genes to Functions, Pathways, & Drugs, Thursday, October 25, 2-4 p.m.
Searching for Dollars: Grant Seeking to Support Research, Thursday, October 25, 4-5 p.m.
Advanced PowerPoint for Presentations, Monday, October 29, 1-2:30 p.m.
Crafting a Data Management Plan, Wednesday, October 31, 11 a.m.-12 p.m.
Molecular Biology Information Service
RNA-Seq & CLC Genomics, Wednesday, October 3, 1-4 p.m.
RNA-Seq & Galaxy, Wednesday, October 10, 1-4 p.m.
ChIP-Seq & CLC Genomics, Wednesday, October 24, 1-4 p.m.
ChIP-Seq & Galaxy, Wednesday, October 31, 1-4 p.m. Read more