September 2018
As we enter a new academic year, the staff of the Health Sciences Library System is pleased to welcome new and returning faculty, staff, and students in the six schools of the health sciences: Medicine, Nursing, Pharmacy, Dental Medicine, Public Health, and Health and Rehabilitation Sciences.
We offer a wide range of services, collections, and comfortable spaces. Here are some highlights to get you started.
Our website, www.hsls.pitt.edu, functions as our virtual "front door." Here you can easily find a list of popular resources, services, quick access to print and electronic resources, full-text searching of all of our e-books, A-Z lists of our e-journals and databases, news and announcements, upcoming classes and events, and much, much more. Our collection is very extensive, but if we don't have something you need, our document delivery service can usually provide it within days at no charge to you. Read more
Do you need…
advice on study design or statistical analysis approaches before starting an important project?
low or high throughput sequencing of DNA, RNA, single cell, exome, whole genome, microbiome, or biological samples?
assistance with analyzing RNA-Seq, ChIP-Seq, variant analysis, or microbiome data?
access to software, computing, and data storage?
The University of Pittsburgh has multiple facilities and resources to help investigators with research involving Next Generation Sequencing (NGS). Faculty and staff are available to identify appropriate technology applications, answer questions, and assist with research flow, including referrals to other facilities. Read more
The HSLS MolBio Information Service and Data Services have collaborated in the creation of a new HSLS program—Spotlight Series: Software Developed @ Pitt—that focuses on software developed by Pitt health sciences researchers.  Sessions will begin with a 30-minute presentation of tool development and use cases, followed by instruction on software access/installation, discussion of parameters, and hands-on practice. Read more
YouTube is a robust online platform with one billion hours of videos viewed on a daily basis. When videos are used as an educational resource, there is a strong emphasis on accessibility; video content should be equally accessible to those who are deaf, hard of hearing, or late-deafened; are second-language learners; or who have learning disabilities. Video captions can help meet the needs of many of these viewers.
YouTube supports Closed Captioning (CC). CC contains text that corresponds to spoken words. When CC is on, the text appears within the video frame near the bottom and changes as the video advances.
If you are adding content to YouTube, you have access to powerful captioning tools from within the YouTube website. When logged in to your YouTube account, go to the Video Manager within the Creator Studio. Each video has an Edit drop down box: select Subtitles/CC to add or edit captions. Read more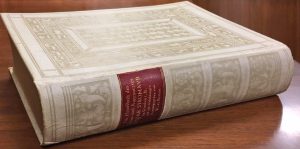 The book, Die Handschrift des Schnitt- und Augenarztes Caspar Stromayr in Lindau im Bodensee (Berlin 1925), in Falk Library's Rodnan Room, is neither very old nor very rare. Its importance is that it brings to our attention an early ophthalmology text by Caspar Stromayr that was never published before. Read more
As Liaison to Pitt's School of Pharmacy, Michele Klein-Fedyshin recently coauthored a poster at the American Association of Colleges of Pharmacy meeting related to her team's systematic review project. The poster was entitled, "Coordination and Development of a Collaborative Effort to Assess Global Health Curricula."  It describes the collaboration with pharmacists from eight other universities across the country as part of a systematic review and includes her liaison librarian role. Faculty from Notre Dame of Maryland University, North Dakota State University, Duquesne University, University of Washington, Roosevelt University, University of the Sciences in Philadelphia, and University of Kentucky joined faculty from the University of Pittsburgh to cooperate on the project led by Sharon Connor from Pitt's School of Pharmacy. Read more
The HSLS Staff News section includes recent HSLS presentations, publications, staff changes, staff promotions, degrees earned, etc.
News
Kate Flewelling, MAR Executive Director, was featured in a National Library of Medicine In Focus article titled "Where are they now? The 2007-2008 NLM Associate Fellows…10 Years On."
Carrie Iwema, Coordinator of Basic Science Services, was appointed to the Medical Library Association's Annual Meeting Innovation Task Force for a 3-year term. Read more
HSLS Classes
Presentation Zen: Effective Visuals and Design, Thursday, September 6, 4-5 p.m.
Painless PubMed*, Tuesday, September 11, 8-9 a.m.
Electronic Lab Notebooks: Introduction to LabArchives, Thursday, September 13, 12-1 p.m.
Introduction to Tableau for Data Visualization, Monday, September 17, 10-11 a.m.
EndNote Basics, Monday, September 17, 3-5 p.m.
Recognizing Predatory Journals: Flattery and Fibs, Tuesday, September 25, 4-5 p.m.
Painless PubMed*, Wednesday, September 26, 12-1 p.m.
Introduction to the Pitt Data Catalog, Thursday, September 27, 2-3 p.m.
Molecular Biology Information Service
RNA-Seq & CLC Genomics, Wednesday, September 5, 1-4 p.m.
Pathway Analysis, Wednesday, September 12, 1-4 p.m.
Variant Detection & Analysis: CLC Genomics & IVA, Wednesday, September 26, 1-4 p.m. Read more