May 2018
A typical health sciences student might approach the Falk Library Main Desk with these questions: "I'm embarrassed to ask, but how do I find this book?" or "How do I search PubMed to locate articles on my topic?" Congratulations intrepid library user—you asked for assistance! Less common, and more challenging are users so intimidated about navigating the library that they do not ask for help.
We want to reach out to anyone who feels 'library anxious' or reluctant to approach our helpful, accessible library staff. Library anxiety is described as "an uncomfortable feeling or emotional disposition, experienced in a library setting, which has cognitive, affective, physiological, and behavioral ramifications…characterized by feelings of…tension [and] fear…which debilitate information literacy." Read more
As President of the Medical Library Association (MLA), I am a member of the Joint Legislative Task Force of MLA and the Association of Academic Health Sciences Libraries. Every year, this group treks to Washington, DC to visit congressional offices. We meet with legislative aides (and occasionally representatives and even senators) to advocate for legislation that is important to our organizations, namely funding for the National Library of Medicine (NLM), the National Institutes of Health (NIH), and the Institute of Museum and Library Services, as well as legislative and federal initiatives to increase public access to the results of federally funded research.
This year, our visits took place on April 4. I visited the offices of Pennsylvania Senators Bob Casey and Pat Toomey, and Representative Mike Doyle (PA 14), whose district includes the University of Pittsburgh. We were very pleased to thank them for their support of the generous funding to NLM and NIH in the recently passed FY18 budget legislation, and we explained how the $3 billion increase to NIH and $21 million for NLM will create jobs, provide hope to patients across the country, widen the opportunity for breakthroughs in biomedical research and support our nation's continued global leadership in sciences and technology. Read more
The medical bibliography commonly known as Garrison-Morton originated as a checklist of texts illustrating the history of medicine. It was published by Fielding H. Garrison in 1933. Leslie T. Morton revised, updated, and annotated the checklist, and then published it as A Medical Bibliography in 1943. Each consequent edition brought this resource up to date, the last time in 1991 when Jeremy Norman assumed responsibility for the project. He saw the future of this bibliography in some electronic form even before the fifth edition was published ("The Future of the Garrison-Morton Bibliography," Health Libraries Review, 1987, 4, 130-131). Read more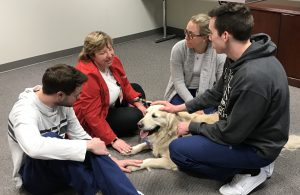 Many university campuses offer pet therapy programs to reduce stress and promote student well-being, particularly around exam times when stress levels rise. Research exists to show the short-term psychological benefits of such therapy sessions. Therefore, HSLS recently collaborated with our 2nd year medical student well-being taskforce to pilot Falk Library as a location for dog therapy. In February and March, HSLS offered three dog therapy sessions, scheduled around study for the United States Medical Licensing Examination (USMLE) Step 1 medical board exams. Total attendance for all sessions reached nearly 60 and informal feedback was extremely positive, prompting us to offer another session open to all health sciences students in April, coordinated near final exams. Read more
The Gout Collection at Pitt is the legacy of Gerald Rodnan (1927-1983), a former professor at the School of Medicine. Among its many rarities is a small leaflet, Doctor Rogers's Oleum Arthriticum or Specific Oil for the Gout, published in 1735. Read more
News
Julia Dahm has been appointed to the position of Coordinator of Technology Integration Services. This position facilitates HSLS's cohesive technology framework including leadership of Falk Library's Technology Help Desk, patron-based technology education and training initiatives, online learning technology back-end administration, internal and external media creation, and leads HSLS's traveling exhibit program. Read more
HSLS Classes
Introduction to Tableau for Data Visualization, Monday, May 14, 11 a.m.-12 p.m.
EndNote Basics, Tuesday, May 15, 9-11 a.m.
Introduction to the Pitt Data Catalog, Thursday, May 17, 2-3 p.m.
Painless PubMed*, Friday, May 18, 9-10 a.m.
Advanced PowerPoint for Presentations, Monday, May 21, 1-2:30 p.m.
Searching for Dollars, Wednesday, May 23, 4-5 p.m.
Painless PubMed*, Wednesday, May 30, 8:30-9:30 a.m.
Locating and Citing Research Data, Thursday, May 31, 3-4 p.m.
Molecular Biology Information Service
Pathway Analysis, Wednesday, May 9, 1-4 p.m. Read more