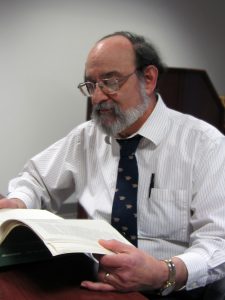 HSLS mourns the passing of Dr. Jonathon Erlen, longtime HSLS History of Medicine Librarian, at the age of 75. John retired in January 2019 after a 35-year career at HSLS. Through the years, he shared his love of the history of medicine with generations of students and scholars, including pre-med students in the Honors College as well as graduate students at Pitt's Center for Medical Ethics, the School of Public Health, the School of Nursing, the School of Health and Rehabilitation Sciences, and many others. He treasured his joint appointment in the School of Medicine, and his enthusiastic lectures were especially appreciated by fourth-year medical students completing his month-long elective in the history of medicine. In 2004, he received the School of Medicine Curriculum Committee's Excellence in Education Award.
John devoted untold hours of service to our local C.F. Reynolds Medical History Society as Secretary/Treasurer. For decades, John arranged an annual series of stimulating and scholarly speakers for the society's public lecture series, and served as the society's "daily CEO," maintaining membership records, collecting dues, and stewarding the society's financial operations. He even hosted many lecturers in his home and arranged personalized sightseeing tours and meetings during their visits. In 2012, the Reynolds Society honored him by establishing the Erlen Lectureship, which is presented annually in February as one of the society's featured activities. Among John's other distinctions, he was the author of numerous publications and professional presentations and served on the American Osler Society's Board of Governors.
John was a gentleman and a scholar who leaves behind a strong impact on his friends and colleagues from across the country and around the world. He is survived by his wife, Dr. Judith Erlen, faculty emeritus in the School of Nursing, and many family members.
~Barbara A. Epstein, HSLS Director Emeritus