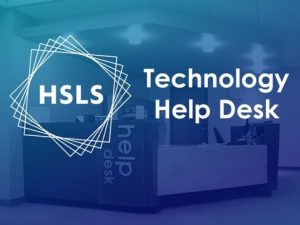 Like many other HSLS services, the Technology Help Desk has pivoted over the past several months to ensure patrons can access our resources during the coronavirus pandemic. While the Technology Help Desk is physically closed, you can still visit us online to ask questions about technology problems, get advice on an upcoming technology project, or request a consultation with a technology services librarian. The Technology Help Desk also offers a variety of classes whether we are remote or in-person. Register for one (or several) of our upcoming online classes, including: Introduction to Adobe Photoshop, Introduction to Adobe Illustrator for Diagrams, Scientific Drawing with Illustrator, Advanced PowerPoint for Presentations, and PowerPoint for Conference Posters.
Once the campus shifts to a Guarded Risk operational posture, we plan to reopen on Falk Library's upper floor to assist you in-person. Stop by with your Pitt ID to borrow circulating equipment like phone and laptop chargers, battery packs, headphones, and laptops. You can also check out our virtual reality station, which features a 3D virtual anatomy atlas and other medical education software. Circulated items will be quarantined and/or cleaned appropriately upon return.
When we are physically open, the Technology Help Desk also provides support for Falk Library's self-service technology. Desktop computers (both PCs and Macs) are located throughout the library's study space. Log in with your Pitt username and password to access specialized software such as EndNote, SPSS, and Cytoscape. Print in color and black/white at the library's Pitt Print stations from your personal computer, smartphone, or a library computer. Flatbed and feeder scanners are also available for patron use. For assistance with any of this equipment, see the Technology Help Desk.
Regardless of the University's current operational posture, the Technology Help Desk is always open in some capacity. Contact us today with your technology questions—we're here to help!
~Julia Reese