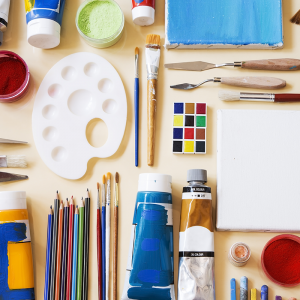 Whether it be writing, knitting, painting, sculpting, acting, or singing, expressing yourself through the arts can be a therapeutic way to cope with these difficult times. Below are a few opportunities on campus and nationally to share your works—allowing others to be inspired, to learn from different narrations and experiences, and to even to heal.
Association of American Medical Colleges (AAMC)
The AAMC, in partnership with StoryCorps and the National Endowment for the Arts, is collecting oral and written narratives, including stories, poems, and visual images, documenting any health care professionals' lived experiences during this time of uncertainty.
There are two opportunities to share:
Participate in a StoryCorps Guided Interview: The goal is to: "help chronicle and make meaning from the diverse range of experiences from your community." You will become a part of American history, as the audio and a still photo from each interview will be preserved at the Library of Congress for future generations.
Create 55-Word Stories and Poems (with or without images): Submit your original work via the AAMC Submission Form. A diverse team will review all submissions to curate collections of pieces. The AAMC will notify authors if their 55-word story or poem will be shared.
Pitt's Center for Creativity (C4C)
The Center for Creativity seeks to foster connections between and among members of the University community whose scholarly efforts and passions are rooted in "making stuff": stories, pictures, music, scenes, statements, apps, messes, etc.
To support the Pitt community, C4C is offering a number of opportunities to share and get involved with creativity and other makers:
Submit to The COVe, an online zine to collect and curate art, writing, comics, and graphics produced during current times: Work need not be COVID-19-themed, or specifically reference themes of isolation or social/physical distancing. Writing, collage, digital art, drawings, paintings, comics, scribbles, and all other forms of 2D work are welcome. ​Submissions accepted via attachments to creative@pitt.edu.
Participate in C4C Creative Challenges: Timed challenges using common materials in uncommon ways. They are recorded and presented on the C4C YouTube channel. To be featured as a participant, email: creative@pitt.edu.
~ Melissa Ratajeski