HSLS liaison librarians are integrated into the schools of the health sciences. Liaison librarians provide instruction as part of the curriculum, guest lectures, and customized orientation sessions; offer recommendations for embedding streaming media and other HSLS resources into course syllabi; collaborate on research projects; provide assistance with researching health and biomedical topics; and offer guidance with scholarly publishing. Liaisons also concentrate on meeting an important research need, such as data science, molecular biology, or IACUC protocol development that spans across the health sciences. Librarians are an integral part of the health sciences community and work closely with faculty and students to support research and scholarship activities.
During COVID-19, HSLS librarians are expanding support to the health sciences. The physical locations of offices may have changed, but through remote technologies, librarians are finding ways to increase collaboration with members of the health sciences community. Faculty have already taken advantage of online consultation services, often opting to schedule a Zoom interaction in place of e-mail correspondence. Recognizing that many within the Pitt community are interested in enhancing professional skills, librarians have not only responded by increasing the number of remote instruction sessions, but have added new topics including:
*Note: This class took place in May; however, you may request specialized sessions of many HSLS classes for your department, class, or group.
Attendance at online instructional sessions has increased substantially over in-person sessions, with some reaching 70+ registrants. Additionally, faculty are collaborating with their liaison librarian to either develop asynchronous modules or do a live remote presentation as part of an orientation, curricular class, or departmental series. For more information on how liaisons can help with remote instruction, refer to the May HSLS Update article, "HSLS Can Help with Remote Instruction."
We take pride in introducing some new faces and changes to our specialized team of liaisons:
Stephen Gabrielson and Francesca Yates, co-liaisons to the School of Medicine and Medical Education

School of Medicine and Department of Medical Education
Stephen Gabrielson, MSLIS
sgabrielson@pitt.edu
School of Medicine and Department of Medical Education
Francesca Yates, MLIS
francesca.yates@pitt.edu
Stephen previously worked as the pharmacy librarian at the M.B. Ketchum Memorial Library at Marshall B. Ketchum University in Fullerton, CA. He earned his MS in library and information science at Simmons University in Boston, MA, and a BA in art history from Humboldt State University in Arcata, CA, where he also earned a Certificate in Museum and Gallery Practices. Francesca was the health sciences librarian at the Geisinger Commonwealth School of Medicine in Scranton, PA. She received an MLIS from the University of Pittsburgh and a BA in Spanish at the State University of New York at New Paltz, where she double minored in linguistics and psychology.
Rachel Suppok, liaison to the School of Dental Medicine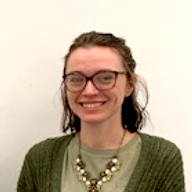 Rachel was a graduate teaching assistant at the Waidner-Spahr Library at Dickinson College in Carlisle, PA. She received an MLIS from the University of Wisconsin-Milwaukee and a BS in neuroscience from Dickinson College in Carlisle, PA. She also studied at the Danish Institute for Study Abroad.
Rebekah Miller, liaison to the School of Nursing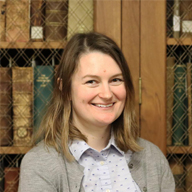 Rebekah has been a Research and Instruction Librarian at HSLS since August 2018 and co-liaison to the School of Nursing since 2019. Prior to being hired at HSLS, Rebekah was the Science, Technology, Engineering, and Mathematics (STEM) Librarian at Gumberg Library, Duquesne University. She received her MLIS from the University of Pittsburgh and a BA in English Literature from Macalester College.
If you haven't already met with your liaison librarian, consider setting up an appointment to learn more about liaison services.
~Renae Barger