To simplify reporting and tracking via a "centralized researcher profile database," federal agencies have been directed by the Office of Science and Technology Policy (OSTP)'s Research Business Models Working Group to require the use of ORCID iDs in the applications for NIH institutional and individual awards beginning in October 2019.
In October 2019, the requirement for ORCID iDs will be incorporated into the application process for NIH trainees, scholars, and participants supported by institutional research training, career development, and research education awards that require appointments for the following activity codes:
T03, T15, T32, T34, T35, T37, T42, T90/R90, TL1, TL4, TU2, K12/KL2, R25, R38, RL5, RL9
Beginning with receipt dates on or after January 25, 2020, ORCID iDs will be required on applications for the following NIH individual fellowship and career development awards:
F05, F30, F31, F32, F33, F37, F38, F99/K00, FI2, K01, K02, K05, K07, K08, K18, K22, K23, K24, K25, K26, K38, K43, K76, K99/R00
Be prepared! Register now for your ORCID iD using Pitt's ORCID Portal. Be sure to grant trusted status to the University of Pittsburgh during this process.

Next, connect your new ORCID iD to eRA Commons, the NIH online system for managing grants, using the eRA Commons link to "Create or Connect your ORCID ID" in your Personal Profile. Finally, authorize NIH to access your personal ORCID record: ORCID will then share information with eRA Commons.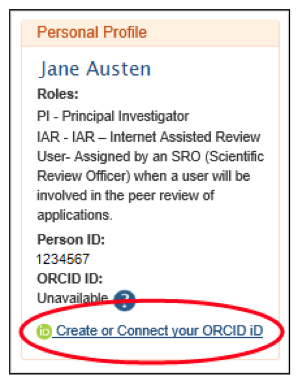 More information about ORCID iDs and the updated NIH Fellowship and Career Development application requirements is available at
For additional guidance, contact Andrea Ketchum by e-mail at ketchum@pitt.edu or call 412-648-9757.
~Andrea Ketchum