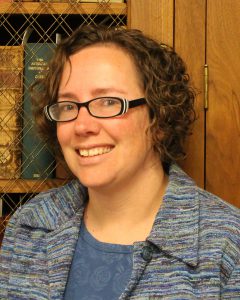 On February 1-2, 2018, four visitors from the National Library of Medicine conducted a site visit with staff from the National Network of Libraries of Medicine, Middle Atlantic Region (NNLM MAR), and the NNLM Web Services Office (NWSO). Both NNLM MAR and NWSO are based at HSLS and are funded from 2016-2021 as part of a cooperative agreement with the National Library of Medicine.
The site visit team included Amanda Wilson, head, National Network Coordinating Office; Alan Vanbiervliet, program officer, Extramural Programs; and Franda Liu and Nichelle Midon, project scientists, National Network Coordinating Office.
Over the course of their visit, the NLM team met with:
HSLS leadership
NWSO and NNLM MAR staff
Representatives from the University of Pittsburgh Sponsored Projects Accounting and Office of Research
Steven Reis, MD, and others from All of Us Pennsylvania
As important as it is for our funding agency to hear from program staff, it is also essential that they hear from our partners who conduct outreach on our behalf. A large portion of our grant, $377,000 in the current funding year, goes to subawardee organizations in Pennsylvania, New York, New Jersey, and Delaware. Our NLM visitors met four current and past subawardees.
The subawardees represented the diversity of organizations that NNLM MAR funds to promote the access and use of high quality health information among the public and health professionals. Annamore Matambanadzo, PhD, Advance African Development, Inc., discussed how she integrates MedlinePlus into school-based, experiential health literacy programs. Mike Bowersox from the Southwest PA Area Health Education Center manages a program entitled Connections4Health. College student volunteers meet one-on-one with patients at the Birmingham Free Clinic and patrons at the downtown branch of the Carnegie Library of Pittsburgh to address social health needs. David Nolfi, Health Sciences Librarian & Library Assessment Coordinator, Duquesne University, used NNLM MAR funding to support training and literature searches for systematic reviews, dramatically increasing the number of systematic reviews conducted at the University. And, Olivia Glotfelty, the hospital librarian at UPMC Mercy, provides training on evidence-based practice for new nurses and even created an escape room activity for nurses to practice procedures and to search library resources.
As Executive Director of NNLM MAR, I welcomed the opportunity to highlight NNLM MAR programs, partners and staff.  Overall, I think that our visitors were impressed with both funded programs, and I am grateful to HSLS leadership, program staff, and internal and external stakeholders who made their visit a success!
~Kate Flewelling, Executive Director, NNLM MAR