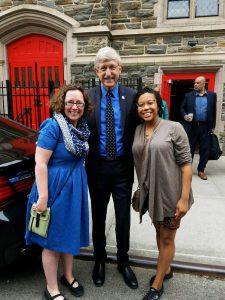 On May 6, 2018, the National Institutes of Health officially launched the All of Us Research Program. Launch events took place in seven cities across the country and online.
MAR All of Us Community Engagement Coordinator Veronica Leigh Milliner and I attended the launch event at the historic Abyssinian Baptist Church in Harlem, New York City. The event consisted of a Community Education Fair and an impressive line-up of speakers. The event was organized by the All of Us Research Program NYC Consortium that includes Columbia University Medical Center, Weill Cornell Medicine, NYC Health + Hospitals Harlem and New York-Presbyterian.
At the fair, Veronica and I promoted the use of high quality health information resources such as MedlinePlus, encouraged attendees to think of public libraries as partners in a health community, and talked about our role with the All of Us Research Program. We also had a chance to meet Francis Collins, Director of the National Institutes of Health. In our short visit with him, we discussed the important role public libraries and NNLM have to play in engaging the public around All of Us. Another visitor to our booth was Dara Richardson-Heron, Chief Engagement Officer for the Research Program.
After the fair, Drs. Collins and Richardson-Heron spoke via live feed to all seven launch sites. Local speakers, including Dr. Calvin O. Butts, III, pastor of the Abyssinian Baptist Church, and Ms. Patricia McDaniel, an All of Us participant, talked about the importance of the research program from their perspectives.
The day may have been unseasonably chilly, but it was an experience neither Veronica nor I will ever forget! National and local presentations from all seven launch sites are online, including NLM Director Patti Brennan's talk at the Kansas City event.
~ Kate Flewelling, NNLM MAR Executive Director