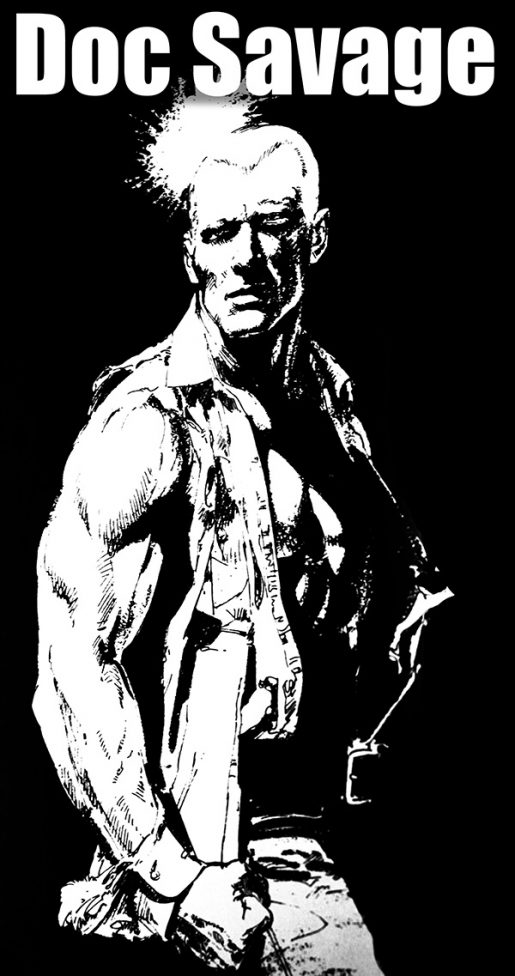 Falk Library has recently opened a new exhibit of signed prints, original artwork, and published comics titled "Doc Savage: The Supreme Adventurer and Physician." The featured items are on temporary loan to the library from a private collection.
Doc was a nickname of Clark Savage Jr., MD, a physician and scientist who "practiced" his medicine under the most challenging circumstances and in the most unusual places. He traveled the world, along with his six aides, battling against sinister crime lords and evil geniuses. Doc's adventures have captivated generations of readers and inspired many illustrators. He was, according to Marvel icon Stan Lee, the forerunner of all modern superheroes.
The exhibit focuses on the many book illustrators and comic book artists involved in drawing, portraying, and shaping the character of Doc Savage from his inception in 1933 to the current day, including James Bama, Bob Larkin, Joe DeVito, Steve Rude, and Walter Baumhofer. It traces the publishing history of this popular pulp fiction character and retells the story of love and fascination of artists who depicted the hero for over 80 years.
Among the rare and unique items, such as limited edition signed prints and original drawings, there is also a December 1935 issue from the original series and a number of the comic books produced since the 1960s. The original issue, The Fantastic Island, is on display and is considered by many critics to be one of the best of the series. This early issue, like other pulp fiction novels, was printed on cheap paper, with a price tag of no more than 10 to 15 cents, and was not meant to last forever. The copy on display is in surprisingly good shape.
The exhibit is located in the quiet study area on the mezzanine level of the Falk Library and will be on display through November 23. It is free and open to the public during Falk Library's regular hours.
Please join us for these special events:
Thursday, October 12, 2017, at 6 p.m., Scaife Hall, Lecture Room 1105
"Who is Doc Savage? Discovering and Collecting the First 'Official' Superman of the 20th Century" presented by Tom Fort, MLitt
Tuesday, October 17, 2017, at 6 p.m., Scaife Hall, Lecture Room 1105
"From Doc Savage to Doctor Strange: The Physician Superhero in American Popular Culture" presented by Mark Best, PhD
~Gosia Fort