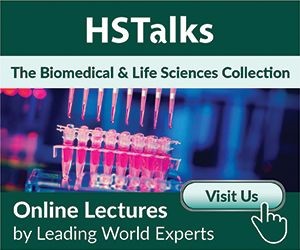 The Biomedical and Life Sciences Collection from Henry Stewart Talks (HSTalks) is a treasure trove of curated, specially commissioned lectures from world-renowned scientists and clinicians (including Nobel Laureates). These talks are animated, online, audiovisual lectures, case studies, or seminar-style talks covering many basic research and therapeutic subject areas, and are appropriate for researchers from advanced undergraduates to seasoned practitioners.
Over 2,000 talks are easily discoverable by category/therapeutic area, series, or expert.
Categories include:
Agriculture & Environmental Sciences
Biochemistry
Cancer
Cell Biology
Clinical Medicine
Diseases, Disorders, & Treatments
Genetics & Epigenetics
Immunology
Metabolism & Nutrition
Methods
Microbiology
Neurology
Omics & Systems Biology
Pharmaceutical Sciences
Reproduction & Development
Therapeutic areas include:
Cardiovascular & Metabolic
Dermatology
Gynecology & Obstetrics
Hematology
Immunology & Inflammation
Infectious Disease
Neuroscience
Oncology
Ophthalmology
Oral Health
Respiratory Diseases
Vaccines
Each subject area lists the number of, and provides access to, relevant lectures, series, and experts. For example, the Genetics & Epigenetics category includes 516 lectures (e.g., "HSV Vectors: Approaches to Treatment of Chronic Pain" by Pitt Professor of Microbiology & Molecular Genetics, Joseph Glorioso), 40 series (e.g., Cancer Genetics and Gene Transfer & Gene Therapy), and content from 498 experts. The Neuroscience therapeutic area includes 402 lectures (e.g., "Molecular Basis of NMDA Receptor Functional Diversity" by Pitt Professor of Neuroscience, Jon Johnson), 36 series (e.g., Animal Models in Biomedical Research and Nanomedicine), and content from 388 experts.
The HSTalks collection updates monthly with new talks and series. The intent of the talks is not only for personal education, but also for inclusion in classroom teaching, as they are ideally suited for flipped, distance, and blended learning. A one-click embedded feature allows for easy integration into Moodle, Blackboard, and other virtual learning environments. The HSTalks team will even suggest relevant lectures to include if you send them your syllabus. If desired, CME and CPD credits are available.
HSTalks are freely available 24/7 for all Pitt affiliates via the "Videos" tab on the HSLS MolBio homepage, searching PittCat, or directly from the HSTalks website. You will need to use remote access if off campus.
For more information, contact the MolBio Information Services Department.
~Carrie Iwema