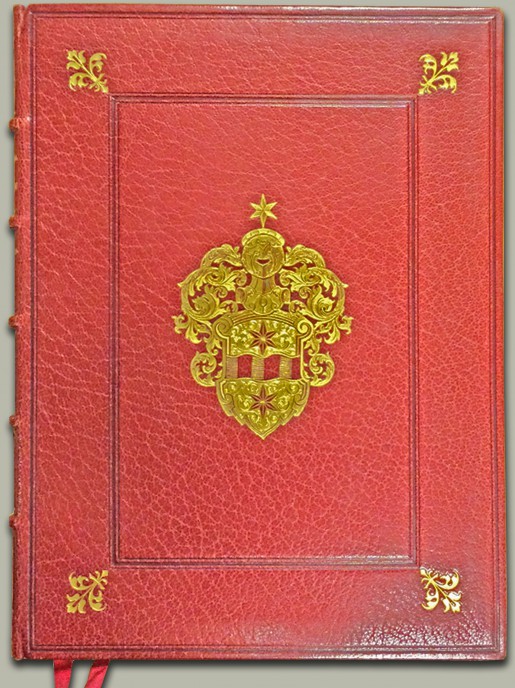 The Parisian bookbinding workshop later known as Gruel & Engelmann was founded in 1811 by Isidore Desforges. Desforges took his son-in-law Paul Gruel into partnership in 1825. After Gruel's death in 1846, his widow Catherine, successfully continued the business. She had exquisite artistic taste and attracted the best talent to her workshop. It was a meeting place for all important binders of the time, and her salon became a literary club for celebrated collectors of books and bindings. Catherine won the highest prize at the Paris Exhibition in 1849, and repeated this success in 1851 at the Great Exhibition in London where she won the gold medal for excellence of workmanship. In 1850, she married Godefroy Engelmann, the famous French printer who introduced lithography to France and invented the chromolithography process. After he joined the business, the house changed its name to Gruel-Engelmann. After Engelmann's death, Catherine was joined by her sons Léon Gruel (overseeing the binding department) and Edmond Engelmann (directing the artistic aspects of printing). The fame and artistic excellence of the firm continued to grow. Léon Gruel, expert binder and collector, said, "Modern book binding has discovered nothing to equal the old designs, and at best we can only copy" (The Bookman, 1900:11). He could produce binding in any style, but he loved to replicate the old French masters' designs. His frequently-exhibited works brought him the highest awards.
HSLS collections include a 1562 edition of Spittal Bůch by Paracelsus, which was bound in the famous Gruel-Engelmann workshop at the end of the 19th century in the style of Pierre Anguerrand, an 18th century French binder. The beautiful red morocco binding is tooled in maroon and gold. The spine, divided by raised bands into six panels, has gold lettering and Gruel's name and logo at the bottom. The edges of the book are gilt. The inside covers reveal a gold lace border, double marble endpapers, and Edmond Engelmann's color bookplate printed by his brother Robert Engelmann in 1893.
Spittal Bůch can be viewed in the Rare Book Room by appointment.
~Gosia Fort