Do you need to scan a document or journal? Are you frustrated with slow equipment and cumbersome software? HSLS is pleased to introduce the solution to your scanning woes: the Scannx Book ScanCenter.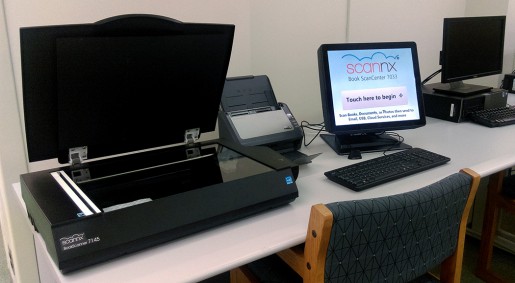 With a touch-screen interface and rapid scanning technology, this device makes scanning in Falk Library stress-free and easier than ever before. Designed with large books in mind, the ample flatbed surface reduces curving so that every page comes back crisp and clear. Also attached for your convenience is an auto document feeder, which can be used with single or double-sided loose-leaf documents. Would you like to create a PDF with editable text? No problem! The ScanCenter has multiple options for file formatting to suit all of your basic needs.
Not only can you scan quickly and easily, but you can also send documents to the following multiple, convenient destinations:
USB flash drive (Use your own, or Health Sciences patrons may borrow one for 24 hours with their valid Pitt ID.)
E-mail
Self-Service printing (A Pitt printing station is located just around the corner.)
Google Drive
Smartphone or tablet
For on-the-spot editing, the Book ScanCenter is equipped with de-skewing technology, which will automatically straighten scans, as well as cropping, zooming, and page-splitting tools built right into the software. You can scan, edit, and send your documents in one streamlined process.
The Scannx Book ScanCenter is located on the upper floor of Falk Library, across from the Technology Help Desk. For questions about scanning, stop by or call the Technology Help Desk at 412-648-9109. HSLS equipment is available for patrons in the schools of the health sciences only. Hillman Library also offers scanning services for the general campus.
~Hannah Sinemus