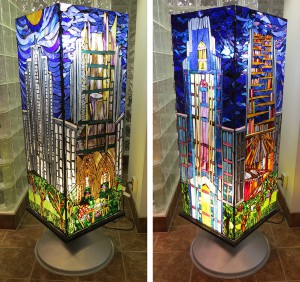 A spectacular glass mosaic, featuring the Cathedral of Learning, now graces Falk Library's entry way. This one of a kind piece was created by notable local artist Daviea Davis as part of her Pillars of Light Project.
Although dreamed about for some time, this project came to realization when Davis's entry was accepted for the Phipps Conservatory and Botanical Gardens 2013 summer flower show themed "Glass in the Gardens." Her vision was to create spinning, illuminated, glass pillars; each expressing a local nonprofit.
Davis sent out 100 letters to Pittsburgh nonprofits asking if they were willing to fund a pillar expressing their organization, which would be theirs to either keep or auction off after the six month exhibit. Thirteen organizations responded yes to the call, the University of Pittsburgh being the first. Other pillars represent the Children's Institute, Holocaust Center, Nine Mile Run Watershed Association, and Western Pennsylvania School for Blind Children.
Davis decided to use the Cathedral of Learning as her focal point for the University of Pittsburgh's pillar. Each of the four sides represents a different aspect of the building; its many windows, its multicolored illuminated facade during the Pittsburgh Festival of Lights, its use by students to study, and "just about learning, knowledge, and the quest for becoming more fully alive and human through reading and understanding" as depicted with books. She has a vision to eventually create a piece for all of the different schools here at Pitt.
For the past 20 years, Davis has been creating glass mosaics using mostly salvaged pieces of glass. She is a teaching artist, stating that her studio is open for students and distraction seekers, and works with groups to create community art and families to create their stories in glass. Visit her Web site for more information on the Pillars of Light Project, her other works, or her studio located in Regent Square.
To view the pillar, visit Falk Library during regular library hours.
~Melissa Ratajeski