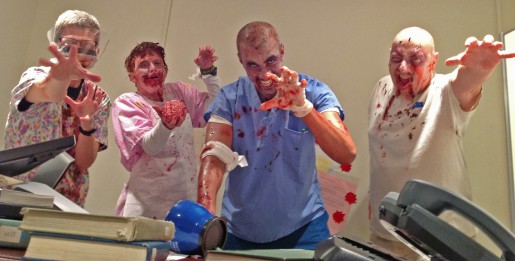 During this Halloween season—when the undead walk—your greatest weapon just might be current biomedical information. So, in the spirit of the season, HSLS is offering a ghoulish twist on our basic, weekly, Painless PubMed search class. In one horror-filled hour, Undead PubMed will use creepy examples to introduce or update you on: accessing PubMed from a safe location, building an effective search strategy, retrieving full-text articles if the library has been overrun by zombies, using a MyNCBI account to save your searches, and (maybe) save the world.
Please join us—if you dare—for Undead PubMed (costumes are optional):
October 6, 2014 – noon to 1:00 p.m.
October 14, 2014 – 1 p.m. to 2 p.m.
October 22, 2014 – 9 a.m. to 10 a.m.
October 31, 2014 – 11 a.m. to noon
All of these classes are held in Falk Library, Classroom 1.
~Nancy Tannery