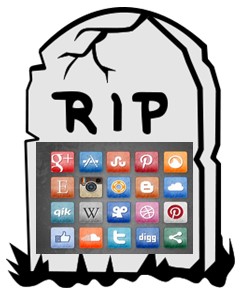 It's important to plan ahead for end-of-life decisions. A last will and testament dictates the distribution of your assets upon your death. Advance directives, a living will, and power of attorney describe your health care wishes if you are unable to participate in your own care.
Have you ever thought about what happens to your Facebook profile, your Flickr pictures, and all of your online service accounts, not to mention your social media persona upon your demise?
Well, it varies. As noted in the Knowledge@Wharton's article, "Rest in Peace: Planning for Your Digital Demise," March 26, 2014, "After all, our digital effects—the pictures we post, the emails we draft and the status updates we send—don't solely belong to us in the first place. They belong, at least in part, to companies like Twitter and Yahoo that store the information on their servers." The more exposure you have on social media, the more work it takes to make sure your online presence dies when you do. For the most part, what happens to your online life does depend on the product's service provider.
| | |
| --- | --- |
| | "No Right of Survivorship and Non-Transferability. You agree that your Yahoo account is non-transferable and any rights to your Yahoo ID or contents within your account terminate upon your death. Upon receipt of a copy of a death certificate, your account may be terminated and all contents therein permanently deleted." |
| | |
| --- | --- |
| | "[You can] choose to have your data deleted—after three, six, nine or 12 months of inactivity. Or you can select trusted contacts to receive data from some or all of the following services: +1s; Blogger; Contacts and Circles; Drive; Gmail; Google+ Profiles, Pages and Streams; Picasa Web Albums; Google Voice and YouTube." |
| | |
| --- | --- |
| | "Depending on the privacy settings of the deceased person's account, friends can share memories on the memorialized Timeline. Anyone can send private messages to the deceased person. Content the deceased person shared (ex: photos, posts) remains on Facebook." |
The following authoritative sources provide information about the plight of your digital life after you pass away:
~Charlie Wessel