HSLS is home to the regional office of the National Network of Libraries of Medicine, Middle Atlantic Region (NN/LM MAR). The National Network of Libraries of Medicine program is the core component of the National Library of Medicine (NLM) outreach program and its efforts to reduce health disparities and improve health information literacy. As one of eight regional medical libraries in the country, we work under a five-year, federal contract with NLM to support their efforts to provide all U.S. health professionals with equal access to biomedical information and improve the public's access to health information so they can make informed decisions about their health. On April 30, 2014, we completed the third year of our five year contract.
NN/LM is a network of over 6,000 member organizations including libraries, information centers, public and community health centers, community organizations, schools, and other entities throughout the United States with an interest in promoting access to health information. The NN/LM program is supported with federal tax dollars so there is no fee to become a member organization. Nearly 1,000 members are located in the Middle Atlantic Region. This number has grown by almost 25% since HSLS assumed its role as NN/LM MAR.
NN/LM MAR staff offer training opportunities to member organizations and others on over 130 health information databases supported by NLM covering biomedical literature, chemicals and drugs, environmental health, consumer health, and other topics. In year three, NN/LM MAR staff promoted and provided training to support the effective use of NLM information products and services; awareness of Affordable Care Act regulations and resources; and access to the latest health related news, technology, and information to over 9,500 health professionals, educators, librarians, and consumers through in-person and online training, demonstrations, exhibits, and other types of public programs, including:
1,403 NLM resource demonstrations while exhibiting at 5 national and 37 regional, state or local meetings or conferences
28 workshops or CEs on NLM resources offered at national, regional, state and local conferences
121 scheduled trainings and invited presentations
29 regularly scheduled Webinars
59 site visits made to member organizations
This past year, NN/LM MAR staff were invited to offer training for a variety of professional groups such as the Philadelphia Fight Critical Path and the AIDS Library of Philadelphia; Free Library of Philadelphia; New Jersey, Pennsylvania, and Delaware State Libraries, Lehigh Valley School Nurses Association; Allegheny County Certified School Nurse Association; Northeast Center for Risk Management Education; Pennsylvania eHealth Initiative; Philadelphia Department of Public Health; Genesee County Health Department; Delaware Division of Public Health; Pennsylvania Public Health Training Center; Mid-Atlantic Center for Children's Health and the Environment, New York and Pennsylvania Critical Access Hospital Administrators; National Association of Community Health Centers, and a number of federally qualified health centers or community practices within the region.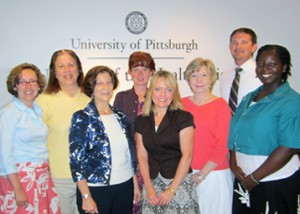 NN/LM MAR staff also offer funding opportunities to member organizations for projects that increase access to health information. In year three, NN/LM MAR awarded over $420,000 to Network member organizations, including libraries, health centers and community organizations to provide funding in support of a wide variety of outreach projects directed at providing health information access, training, presentations, demonstrations, technology improvement, and exhibits. Funding supported 44 awards for professional development, exhibits, medical library projects, technology improvement, outreach to health professionals and consumers, emergency preparedness, and a group licensing initiative for hospital libraries. This funding allowed Network members to:
Offer 247 trainings and 4 exhibits to educate and promote awareness of NLM resources to approximately 2,500 health professionals, educators, students, and consumer groups
Hold a two-day symposium on research data management in libraries, that was attended by 143 registrants from 23 states and Canada
Host a one day, intensive workshop designed to increase the number of New Jersey libraries active in disaster response
Purchase technology to promote evidence-based health information
Involve health sciences libraries in institution-wide health information initiatives
Attend or host professional development events and CEs to increase ability to provide improved health information access
I encourage you to follow NN/LM MAR activities by subscribing to our listserv or following our outreach calendar. If you work at an institution with a mission to promote access to health information and would benefit from NN/LM MAR training and funding opportunities, or would like the opportunity to network with other member organizations, consider becoming a member of the National Network or contact us for more information.
~ Renae Barger, Executive Director, National Network of Libraries of Medicine, Middle Atlantic Region