Literacy skills are a stronger predictor of health status than age, income, employment status, education level, and racial or ethnic group. According to a report from the University of Connecticut, "Low Health Literacy: Implications for National Health Policy," low health literacy is estimated to cost $106–$236 billion annually; and in a finding from the 2003 study, "National Assessment of Adult Literacy," 36% of adults fall into the basic and below basic health literacy level.
Health literacy does not apply only to reading skills. It is much more than a readability number. An expanded definition of health literacy from the "Calgary Charter on Health Literacy" defines health literacy as the ability to find, understand, evaluate, communicate, and use information by both the public and health care personnel.
The Patient Protection and Affordable Care Act stresses how important it is for patients to understand their conditions and treatments in order to make informed decisions. The Institute of Medicine's discussion paper, "10 Attributes of Health Literate Health Care Organizations," emphasizes the significance of health literacy to organizations as they prepare for future health care reform. In order for this to be achieved, both health care professionals and patients will need to be health literate. It is especially important for health care professionals to understand the impact health literacy plays in the management of patients with chronic illness.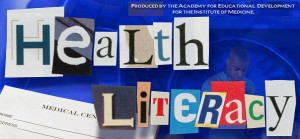 The National Network of Libraries of Medicine, whose regional medical library for the Middle Atlantic Region is located at the University of Pittsburgh's Health Sciences Library System, offers an in-person class, "Health Literacy: Its Importance to You." The class is appropriate for anyone who works with patients in the clinical setting or provides health information to consumers, including health care professionals, health information specialists, public librarians, and those in non-profit organizations who serve the public.
The goals of the class are to:
Raise awareness about health literacy (primary goal)
Define the meaning of health literacy
Identify the various types of literacy
Recognize the impact health literacy plays in health care
Describe areas of health care delivery that will need to be addressed
The knowledge gained from this class will prepare participants to raise awareness of what health literacy is and to share with your organization or group how important health literacy is to all stakeholders.
To learn more about this class, e-mail Michelle Burda, NN/LM Middle Atlantic Region, Network and Advocacy Coordinator, at mburda@pitt.edu or call 412-624-1589.
~ Michelle Burda
1. B.D. Weiss, Health Literacy: A Manual for Clinicians, 2nd ed., American Medical Association/American Medical Association Foundation, http://www.ama-assn.org/resources/doc/ama-foundation/healthlitclinicians.pdf.
2. "Health Literacy Interventions and Outcomes: An Updated Systematic Review: Executive Summary." March 2011, Agency for Healthcare Research and Quality, Rockville, MD, http://www.ahrq.gov/research/findings/evidence-based-reports/litupsum.html, full report available at http://www.ncbi.nlm.nih.gov/books/NBK82434/.
3. M. Kutner, E. Greenberg, Y. Jin, et al, The Health Literacy of America's Adults: Results from the 2003 National Assessment of Adult Literacy, [November 17, 2008], (NCES 2006-483), http://eric​.ed.gov/PDFS/ED493284.pdf.