The third and final cohort of seven students in the Certificate of Advanced Study in the Health Sciences Librarianship (HealthCAS) program received graduation certificates at a capstone event held on May 4, 2013. The event was held in conjunction with the annual meeting of the Medical Library Association and took place at the Hirsh Library of Health Sciences at Tufts University Medical Center in Boston, Mass.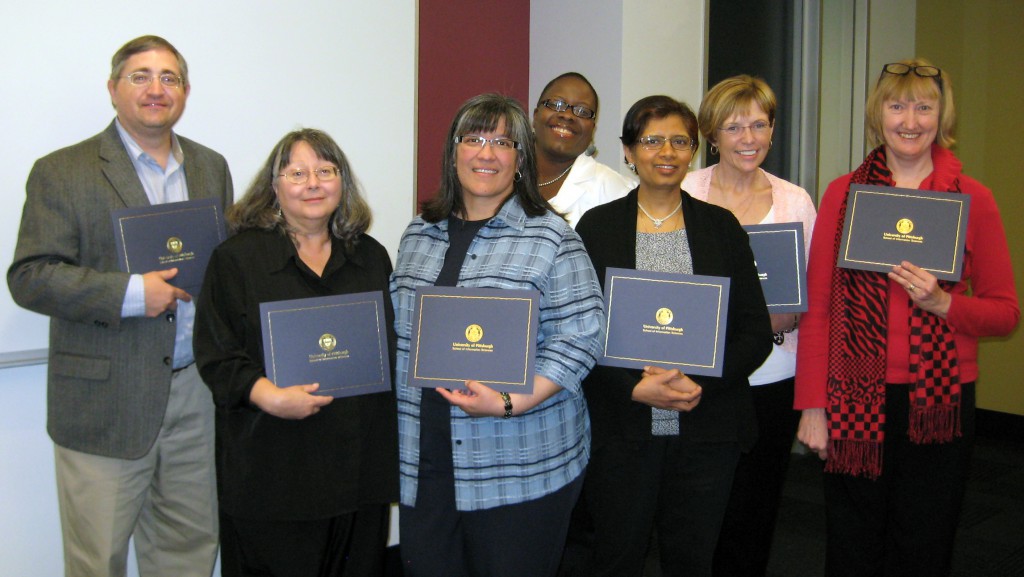 The goal of the HealthCAS program was to offer specialized preparation for professional positions in health sciences libraries through online coursework, an applied research project, mentoring experiences, and attendance at the annual meeting of the Medical Library Association.
Intended for those who have already earned their MLIS degrees, HealthCAS consisted of 12 credits of coursework on an array of topics, including: evidence-based medicine, creating continuing education for clinicians, clinical medical librarianship, medical informatics, and assisting with systematic reviews, among others. In addition to completing the coursework, each student conducted an applied research project, worth three credits, and submitted the results as a poster presentation at the capstone event.
HealthCAS was funded by a three-year grant, extended to a fourth year, to Pitt's School of Information Sciences (iSchool) and the Health Sciences Library System from the Institute of Museum and Library Services. The program consisted of three semesters of online coursework; each semester covered one four-credit course: (1) Libraries in Health Care Environments, (2) Collections and Resources in Health Care Environments, and (3) Reference Services and Instruction in Health Care Environments. The independent research project spanned all three semesters.
The HealthCAS curriculum was developed and taught by a team of HSLS faculty librarians, who have adjunct iSchool faculty appointments.
~ Ester Saghafi