When initially released in 2004, IndexCat was a boon to medical historians and researchers. They finally had free online access to a keyword-searchable, digitized version of the Index-Catalogue of the Library of the Surgeon General's Office, a 61-volume print series published between 1880 and 1961. The Index-Catalogue contains material dating from the 15th through the 20th centuries. Now, in a major update, IndexCat also includes the expanded digital version of A Catalogue of Incipits of Mediaeval Scientific Writings in Latin (eTK), and Scientific and Medical Writings in Old and Middle English: An Electronic Reference (eVK2).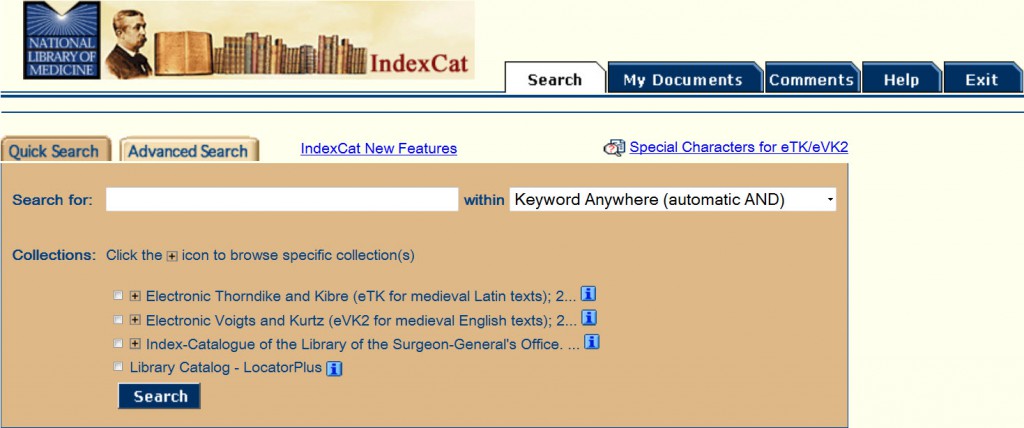 In addition to the inclusion of new resources to the database, numerous improvements have been made to the user interface:
In both the Quick and Advanced Search features, search categories have been increased to include: Date, Subject, Author, Title/Journal Title, and ID Number.
The new search category, Keyword Anywhere, automatically uses the Boolean AND.
Special characters used in Medieval, Old, and Middle English are available for searching in the eTK and eVK2 collections.
The Help section provides general search tips as well as instructions on how to search unique aspects of the database.
For quick and easy management of search results, a maximum of 100 records can now be saved from the Results Display page to the My Documents page, where users can download, print, or e-mail search results.
IndexCat has become a critical resource for research in the development of medical theories, philosophies, therapies, and other aspects of the history of medicine. To access this resource, type "indexcat" in the search.HSLS box on the HSLS home page or browse the Databases A-Z list. For help using IndexCat, contact the Main Desk at 412-648-8866 or e-mail Ask a Librarian.
~ Andrea Ketchum