Please join HSLS as we fo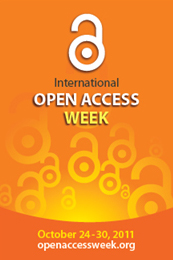 cus on author rights during International Open Access Week, October 24-30, 2011. Submitting scholarly research for publication requires careful consideration due to a wide range of access models and mandates, including Open Access and the NIH Public Access Policy. HSLS is committed to providing the information resources necessary to help authors navigate these new publishing options.
The highlight of HSLS Open Access Week 2011 is a special lecture, "Author Rights and Publishing Today: What You Should Know and Why You Should Care," presented by Denise Troll Covey, Principal Librarian for Special Projects at Carnegie Mellon University. Covey's professional work focuses on copyright, open access, and digital libraries. She has been a Distinguished Fellow in the Digital Library Federation and her research on orphan works recently resulted in a consultation with the Librarian of the U.S. Supreme Court. The lecture is scheduled for Wednesday, October 26, from noon-1 p.m., in Scaife Hall, Lecture Room 5.
Topics will include:
What are author rights?
What copyright and publishing issues are important for faculty authors?
How does a faculty author retain certain rights when publishing an article?
What role does the NIH Public Access Policy play?
How does Open Access affect scholarly impact and tenure issues?
After the lecture, there will be ample time for audience questions and discussion. HSLS encourages you to bring your questions and concerns to this special lecture.
Open Access Week 2011 is sponsored by the Scholarly Publishing and Academic Resources Coalition (SPARC).
For additional information about the lecture, contact Andrea Ketchum at ketchum@pitt.edu or 412-648-9757.
Visit the HSLS NIH Public Access Policy Web site for detailed information about the NIH Public Access Policy, the SPARC Author Rights Initiative, and related resources.
~ Andrea Ketchum