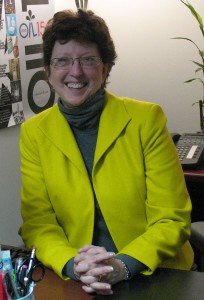 Congratulations to Nancy Tannery, HSLS associate director for User Services, who has been named as a National Library of Medicine/Association of Academic Health Sciences Libraries Leadership (NLM/AAHSL) Fellow.
The NLM/AAHSL Leadership Fellows Program is focused on preparing emerging leaders for the position of library director in academic health sciences libraries.  During this one-year program fellows have the opportunity to develop their knowledge and skills in a variety of learning settings, including exposure to leadership in another library environment.They are paired with mentors who are academic health sciences library directors.  Nancy is paired with James Shedlock, director of Galter Health Sciences Library at Northwestern University. In addition to the individual relationship with their mentors, fellows benefit from working collaboratively with the other fellows and mentors. Five fellows are selected each year and thirty fellows have participated in the program since its inception in 2002.
Nancy has worked at HSLS since 1995, beginning as a reference librarian at Falk Library. In her current role as Associate Director, she oversees of all HSLS instructional programs, reference and access services, as well as specialized information service areas such as History of Medicine and Molecular Biology.  Nancy holds degrees from Pennsylvania State University (BS) and the University of Pittsburgh (MLS), and had a career in research before coming to HSLS.
The 2008-09 fellow class met for the first time on October 31 at the annual meeting of the Association of American Medical Colleges in San Antonio, CA.  The program year concludes next September with a Capstone event and graduation in Washington, DC.