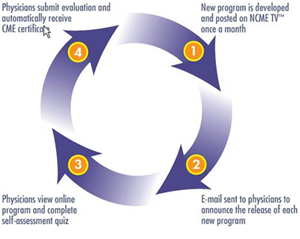 NCME-TV, a Web-based series of streaming CME videos, is now accessible through the HSLS Web site. Physicians familiar with NCME (Network for Continuing Medical Education) videos and DVDs will welcome this new Internet-accessible format that allows access to videos anytime, from any computer.
NCME-TV provides updates on topics relevant to physicians, including:
• Hospital quality, performance and credentialing issues, and programming to help meet Joint Commission requirements
• Master lectures on critical issues in medicine and disease states
• State-mandated topics such as HIV/AIDS management, domestic violence and pain management
• Topics in the news, such as avian influenza and bioterrorism
NCME-TV titles available through the internet will have a "Launch" icon. Older NCME programs in DVD or VHS format can be accessed through the Computer and Media Center at Falk Library. Search the library catalog, PITTCat http://pittcat.hsls.pitt.edu/, to check the title's availability.
All NCME programs are certified for AMA PRA Category 1 Credit™ on an hour-for-hour basis. In addition, most programs are certified for prescribed credit by the American Academy of Family Physicians and Category 2A credit from the American Osteopathic Association. CME certificates are sent after receipt of the program's evaluation.
To access NCME-TV visit: www.hsls.pitt.edu/resources/ncmetv. First time users must create an NCME-TV account, which allows them to receive monthly email notifications of new NCME-TV programs.
~ Charlie Wessel