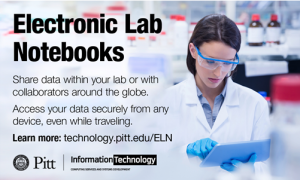 What is an electronic lab notebook (ELN), and why use one? Quite simply, ELNs are designed to replace paper lab notebooks that can be damaged, misplaced, or potentially altered. The digital nature of ELNs allows for:
Location independence due to cloud storage
Saving text, images, links, references, comments, PDFs, and more
Searchable entries by keyword, date, or use
Secure backup and access
Sharing of notebooks among the researcher, primary investigator, and other lab members or collaborators
Traceable history of additions and deletions as all versions are saved indefinitely
Thanks to Computing Services and Systems Development (CSSD), Pitt now has an enterprise license for an ELN, LabArchives.