Blog Archives
» Next Entries
Previous Entries «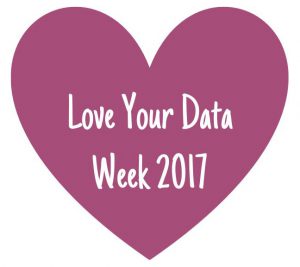 The week of February 13–17, 2017, is Love Your Data (LYD) week, a social media event designed to raise awareness about research data management, sharing, and preservation. This year's theme is emphasizing data quality for researchers at any stage in their career. Each day of the week will focus on a different topic: Read more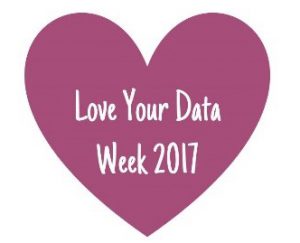 Join the librarians at the University of Pittsburgh in celebrating Love Your Data (LYD) week, a social media event designed to raise awareness about research data management, sharing, and preservation. During the week of February 13–17, 2017, practical tips, resources, and stories will be shared via Twitter (#LYD17 or #loveyourdata) and via in-person and online data classes offered at Pitt's libraries. Mark your calendar and stay tuned for forthcoming details. Read more
R is a programming language and software environment used for data analysis and/or visualizations. Below are several resources available to help you learn how to use R with your data.
Online training through lynda.pitt.edu (for Pitt users only)
The University provides access to online training via Lynda.com, which includes thousands of videos on topics such as Web design, video editing, Excel, PowerPoint, Photoshop, and more, including R.
To access this resource, visit the My Pitt portal page or the login link on the CSSD page. Use the Lynda.com search box to locate courses or browse the learning paths.  Read more
The New England Journal of Medicine is hosting a challenge to explore the potential of clinical trial data sharing. Individuals and groups are invited to participate in the SPRINT Data Analysis Challenge by analyzing the dataset underlying the Systolic Blood Pressure Intervention Trial (SPRINT) Research Group's article and identifying novel scientific or clinical findings that advance medical science. Read more
You've collected your data—now what? Having a basic set of data visualization skills will enable you to effectively communicate their significance. From understanding how your audience will interpret a bubble chart on your conference presentation to having proficiency with data visualization software packages, there is a wide variation in levels of mastery. Read more
For the past several years, researchers, funders, publishers, software developers, institutions, and other research stakeholders have been discussing methods for data-sharing and data stewardship on a grand scale, recognizing the need for minimal principles and practices. The FAIR data principles were first formalized in 2014 at a workshop in Leiden, The Netherlands, and are available for comment at the website of Force11. Read more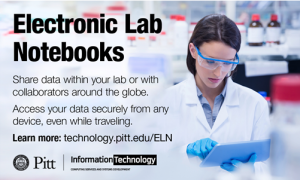 What is an electronic lab notebook (ELN), and why use one? Quite simply, ELNs are designed to replace paper lab notebooks that can be damaged, misplaced, or potentially altered. The digital nature of ELNs allows for: Read more
Location independence due to cloud storage
Saving text, images, links, references, comments, PDFs, and more
University researchers are invited to complete the University of Pittsburgh's Data Management Survey. The purpose of this survey is to gain a better understanding of research data held at the University. The responses collected will inform the University's Data Management Committee, which was created to examine the University's needs regarding managing, storing, sharing, and archiving research data. The committee will explore how the University might best meet those needs and report its findings and recommendations to the Office of the Provost. You may visit http://pi.tt/datasurvey to complete the survey. Read more
» Next Entries
Previous Entries «