» Next Entries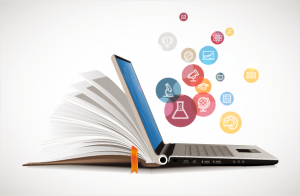 If you write scripts or use data analysis software, did you know that the Health Sciences Library System provides access to thousands of reference materials to help support research programming in the health sciences? If you want to test out software or need help interpreting a never-before-seen error message, the library's streaming videos and e-books are available to anyone with a Pitt ID, on- or off-campus.
LinkedIn Learning (formerly known as Lynda.com) provides video tutorials, transcripts, and exercises for popular data analysis and statistics software. Need an introduction to SPSS? Try the SPSS Statistics Essential Training course to learn the basics, or focus on quantitative tests in SPSS for Academic Research course. Dive deep into SAS with a multi-part series of SAS Essential Training: Descriptive Analysis for Healthcare Research and SAS Essential Training: Regression Analysis for Healthcare Research. Introductions to Stata and MATLAB are also available. Read more
During Love Data Week, HSLS Data Services gathered stories from health sciences researchers to better understand the "benefits or unforeseen outcomes" experienced from data sharing.
The paraphrased stories below illustrate the importance of data security and thoughtful data management.
There is the expectation that one's identity would remain 100% confidential when participating in a research study. A breach in data security, identified during a Google search, made one research participant hesitant about sharing any personal data in future studies. Read more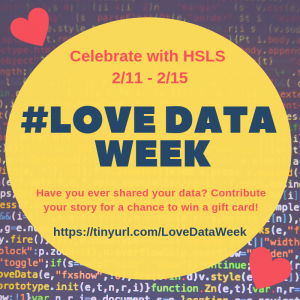 The week of February 11–15, 2019, is Love Data Week. To celebrate, HSLS Data Services will be hosting a variety of activities, workshops, and giveaways throughout the week. Stop by the library to engage with colleagues and librarians and learn best practices and tips for loving your data.
Workshops (registration required for all but Friday's drop-in session):
Introduction to Tableau for Data Visualization, February 11, 9 a.m.–10 a.m. Read more

When HSLS launched the Pitt Data Catalog last spring, we wanted to provide researchers with flexible options for advertising and sharing their data. Now that the catalog has grown to describe more than 20 Pitt-created datasets, that flexibility has led our collection development in surprising and exciting directions. We have recently added our first records describing software code and 3D models, all created by Charles C. Horn, PhD. Read more

HSLS, along with academic health sciences libraries at NYU Langone Health, Duke University, University of North Carolina at Chapel Hill, Hofstra University, University of Maryland at Baltimore, University of Virginia, and Wayne State University, participates in the Data Catalog Collaboration Project (DCCP). The DCCP recently received an award from the Clinical and Translational Science Awards (CTSA) Great Team Science Contest. "One of the goals of the CTSAs is to promote team science through establishing mechanisms by which biomedical researchers can collaborate, be trained in why team science is important, and develop evaluation measures to assess teamwork in biomedical research contexts." "One hundred seventy applications were submitted, and the DCCP received the highest score for the Top Importance category." Read more
Researchers across disciplines are sharing their data more and more, whether because of journal or funder mandates, or simply because they personally prefer the openness to increase discoverability and reuse of their data. This sharing has resulted in millions of datasets described or deposited in various locations across the web, including general or discipline-specific data repositories, publisher sites, data journals, authors' home pages, or institutional data catalogs such as the Pitt Data Catalog (for more information see the catalog's about page). Read more
» Next Entries