» Next Entries
PubMed and PubMed Central (PMC) now offer filters to limit a search to only those articles or citations that include related data links, supplemental material, data citations, or a data availability or data accessibility statement.
The filters, detailed below, can be combined with any search by simply adding the Boolean operator "AND" and the specific filter into the search box (see the screenshots below for example syntax; the filters are highlighted in yellow).
PubMed

Use data[filter] to find citations with related data links in either the Secondary Source ID field or the LinkOut – more resources field (both located below the abstract). Read more

Sharing research data can bring many benefits, including greater visibility for data creators, a more transparent research process, and opportunities to identify potential collaborators. But what about datasets that are stored on a lab server instead of in a data repository, or that should only be shared with vetted researchers? The Pitt Data Catalog is a new platform at HSLS designed to help Pitt health sciences researchers share and discover their otherwise hard-to-find datasets, while keeping ultimate control over the data in researchers' hands. Read more

The life sciences are erupting with data. Thanks to advancements in DNA sequencing technologies and the speed and capacity of computational algorithms, the generation of vast quantities of genomic and proteomic data is now commonplace and expected. However, analysis of this data is not keeping pace with its acquisition (storage space is yet another issue…). One limiting factor is that many biomedical scientists do not yet know how to access, much less use, the available analytical resources. This article describes a platform for multi-omic data analysis that is accessible, reproducible, and transparent, and recommends resources on how to use it. Read more
In our continuous effort to support your research needs, HSLS is offering four new classes this spring covering: (1) introduction to mapping, (2) Python through Jupyter, (3) beginning command line for bioinformatics, and (4) options for bioinformatics analysis. Class descriptions and registration links are listed below.
(1) Data 101: Introduction to Mapping 
Thursday, February 15, 2018, 11 a.m. – 1 p.m.; Registration required
Mapping is a great way to visualize and analyze information—and to tell stories. In this introductory workshop, you'll learn the principles of mapmaking, understand how computers are used to plot addresses on a map, conduct basic spatial analysis, and update records in a database based on location. Along with a deeper appreciation for computers, this class will provide you with a solid foundation of mapping concepts and processes, and get you prepared to take your first computer-based mapping class. No computers will be used in this class. Read more
PubMed Central (PMC) was established in 2000 as the National Library of Medicine's full-text, journal article repository. Since 2005, PMC has also been the designated repository for papers submitted in accordance with the NIH Public Access Policy. Today, PMC serves as the full-text repository for papers across a variety of scientific disciplines that fall under a number of funding agencies' public access policies. Read more
"Open Data" is defined by SPARC (Scholarly Publishing and Academic Resources Coalition) as "research data that
is freely available on the Internet;
permits any user to download, copy, analyze, re-process, pass to software, or use for any other purpose; and
is without financial, legal, or technical barriers other than those inseparable from gaining access to the internet itself."
The phrase "open data" first appeared in a PubMed article title in 2000, but it took another 13 years for an increase in publications. As we approach 2018, how do researchers now view open data? And most importantly, how does HSLS support health sciences researchers at Pitt? Read more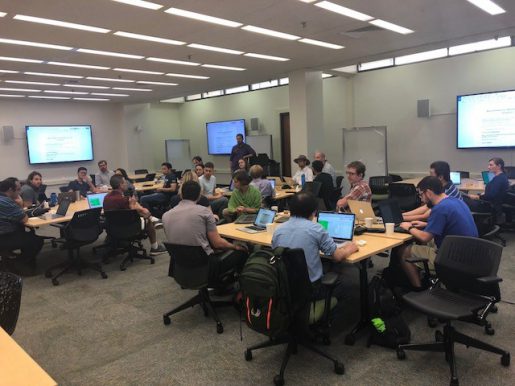 As previously reported, HSLS hosted a National Center for Biotechnology Information (NCBI) Hackathon from September 25-27, 2017, in collaboration with numerous campus partners. The event took place in the Digital Scholarship Commons of the University Library System (ULS). HSLS, the Center for Research Computing (CRC), and the Department of Biomedical Informatics (DBMI) generously provided support for breakfasts. Computing Services and Systems Development (CSSD), the School of Computing and Information (SCI), and the CRC provided expert technical support. Read more
Data journals are a means to share datasets and communicate detailed information about the methods and instrumentation used to acquire the data. Read more
HSLS is pleased to announce that the National Center for Biotechnology Information (NCBI) Hackathon is coming to the University of Pittsburgh on September 25-27, 2017! HSLS is working with numerous groups across campus to organize this event, including the Center for Research Computing (CRC), Computing Services and Systems Development (CSSD), School of Computing and Information (SCI), and University Library System (ULS). Read more
Are you interested in automatic alerts for new datasets of interest?
Do you need to download data for multiple genomes?
The Final Rule of the FDA Amendments Act of 2007 has updated registration and reporting requirements, effective January 18, 2017, with compliance mandated by April 18, 2017. The purpose of the final rule is to clarify the statutory language, expand the minimum reporting data set, and add critical details throughout the ClinicalTrials.gov record to improve effectiveness and compliance overall. Read more
» Next Entries