ClinicalTrials.gov, a service of the National Institutes of Health, is a free online resource that links patients, clinicians, researchers, and the public to information about publicly- and privately-funded clinical trials from across the United States and the world.
ClinicalTrials.gov was launched in 2000 by the National Library of Medicine. In 2008, as a result of Section 801 of the Food and Drug Administration Amendments Act of 2007, ClinicalTrials.gov was expanded to include basic results reporting, including adverse effects. Information in the database is provided by study sponsors and principal investigators. In addition to basic results, study records link to published results, when available.

As of December 2013, there are 156,808 studies in the registry with locations in all 50 states and in 185 countries. Over 10,000 records currently have basic results, a number which has nearly doubled since 2011.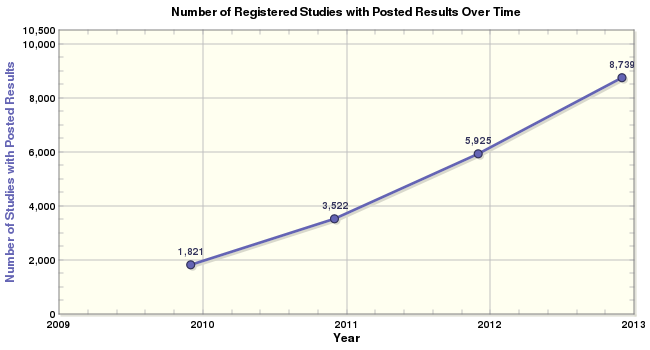 Results reported in ClinicalTrials.gov may not be published anywhere else, making it an essential resource for authors of systematic reviews and others who depend on the most current research on a drug or other therapy. A recent article in JAMA Internal Medicine, reported that the results of 25-50% of clinical trials are never published. Among those studies that are published, the authors found a two-year delay, on average, from study completion to journal publication.
ClinicalTrials.gov has a variety of resources for different users of the site:
~ Kate Flewelling
Posted in the January 2014 Issue