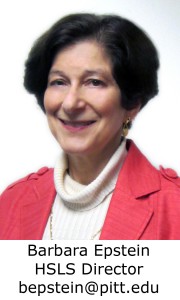 The month of May is a very busy one for medical librarians as we gather at the Annual Meeting of the Medical Library Association, our main professional organization. This year the meeting was in Seattle, a beautiful city with many similarities to Pittsburgh: it's green and hilly, with a vibrant downtown and a major university. They drink lots more coffee than we do, though.
Several HSLS librarians were able to attend, and taught workshops and presented papers and posters (described elsewhere in this issue). The meeting offers valuable opportunities to meet colleagues from across the country and around the world to make connections and share ideas about projects to work on at home.

Highlights of the meeting include stimulating plenary session speakers. Notable among these was journalist and Washington Post correspondent T.R. Reid, whose most recent book is The Healing of America: A Global Quest for Better, Cheaper, and Fairer Health Care (Falk Library call number RA395.A3 R435 2009). He offered a masterful tour of health care in countries as varied as France, Germany, Japan, and England, and explored the dysfunctional aspects of the U.S. health care system, which combines elements of all of these other models.
The introductory plenary speaker was Steven Johnson, the best-selling author of seven books on the intersection of science, technology and personal experience. His most recent book is titled Where Good Ideas Come From: the Natural History of Innovation from Darwin to YouTube (Hillman Library call number BF408.J56 2010*). Johnson explores how environment can foster the development of innovation. For example, he focuses on how English coffee houses were crucial gathering places in the Age of Enlightenment for people from all walks of life to mingle and share ideas, forming the basis for new partnerships and new ideas.
In many ways, the library fosters similar collaborations among diverse disciplines and specialties, both virtually and as a physical space. Students, faculty and researchers from all schools and centers share our resources and facilities. We are collaborating with the health sciences Working Group on Interprofessional Education (IPE) to host a Web site about IPE activities at Pitt. We're also looking at our public space with an eye toward accommodating more group collaborative activities for our users. Watch for more information about these plans in our upcoming August issue.
*If you don't have time to read Johnson's book, you can listen to his excellent TED talk on the Web.
Posted in the June 2012 Issue