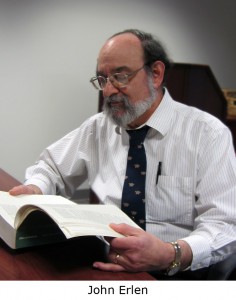 The Carroll F. Reynolds Medical History Society announced the establishment of the Erlen Lectureship, to recognize the many contributions of HSLS History of Medicine Librarian Jonathon (John) Erlen, PhD, to the Society. The Erlen Lectureship will be presented annually in February as one of the Society's featured activities.
Through the years, John has arranged a long series of stimulating and scholarly speakers for the Society's public lecture series, while overseeing logistics and marketing for all of the events. Students especially appreciate the dinners held after the lectures, which offer an opportunity for discussion and collegiality. John is a gracious host, making sure that every speaker leaves Pittsburgh with a positive view of our university and our city. A large number of the lectures have been videotaped and made available on the HSLS Web site, so that they can be enjoyed by future generations of scholars and students.
In addition to managing the Reynolds Society lecture series, John serves as the Society's "daily CEO," maintaining membership records, collecting dues and stewarding the Society's financial operations.
John has spearheaded history of medicine programming and scholarship for many generations of University of Pittsburgh students.
HSLS offers our congratulations to John on this honor, and to the Reynolds Society for its longstanding success as one of the largest local History of Medicine societies in the United States.
For further information and a list of upcoming lectures, please visit C.F. Reynolds Medical History Society.
~ Barbara Epstein
Posted in the April 2012 Issue