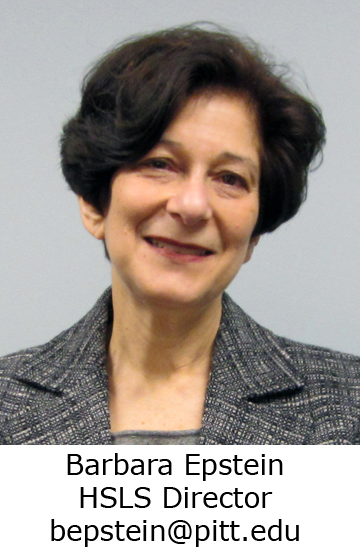 In late January, we distributed a "special edition" of the Update to our UPMC and University of Pittsburgh subscribers, in which we outlined a significant change in the scope of HSLS services available to the UPMC community. While UPMC staff continue to have uninterrupted access to HSLS' wide range of valued clinical e-resources, services provided by HSLS librarians and staff are no longer offered to UPMC library users. These services include circulation of print books and laptops, access to Falk Library's computers, admission to classes in Falk Library, interlibrary loan and document delivery, and information services. HSLS librarians will provide assistance with access problems related to electronic resources, but requests for user instruction and reference consultation are the responsibility of UPMC hospital librarians.
I want to stress, however, that there is no change in services or access for University of Pittsburgh faculty and students with a personal e-mail account ending in @pitt.edu. Many UPMC physicians have full or affiliate/volunteer faculty appointments, but are not accustomed to using their Pitt e-mail accounts, and/or haven't picked up their current Pitt ID cards. As the scope of HSLS services changes, you will need a Pitt ID to borrow books, and be admitted to classes in Falk Library. If you created an HSLS Document Delivery account with your UPMC e-mail address, you will need to re-register with your Pitt e-mail. Molecular Biology information services and software will be available only to University of Pittsburgh users.
If you haven't done so already, I strongly urge eligible faculty to activate your Pitt e-mail account, and find some time to stop by Panther Central in the lobby of the Litchfield Towers (open daily from 7:30 a.m. to 10 p.m.) to pick up a current photo ID. For information and assistance in managing your Pitt e-mail account, contact the Pitt Technology Helpdesk at 412-624-HELP [4357] or direct your browser to http://www.technology.pitt.edu/helprequest/.
I realize these changes may be difficult for UPMC clinicians and even to some Pitt users. They are equally challenging to HSLS librarians and staff members, who are accustomed to offering the same high level of services to all of our user population. We are committed to making this transition as painless as possible, and I welcome your suggestions.
Posted in the February 2012 Issue