June 2013
» Next Entries
Micromedex, a drug information database, supports targeted searches for specific drug information. Simply type a question into the search box, such as "what drugs treat Lyme disease," and you'll be presented with a list of results as shown below: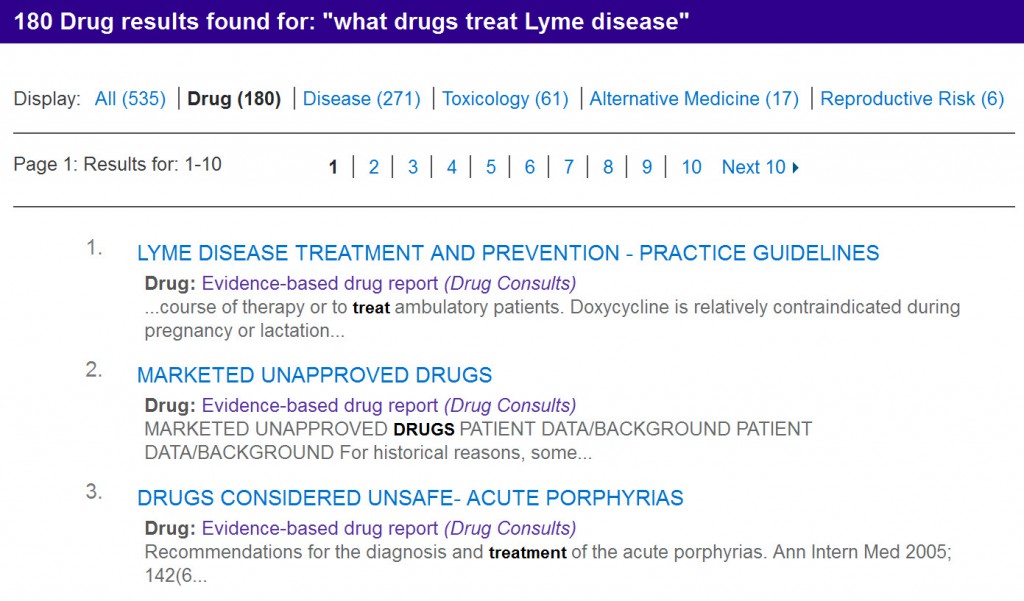 The display feature across the top of the results allows you to narrow the search by disease, toxicology, alternative medicine, or reproductive risk information. Read more
The Association of Academic Health Sciences Libraries and the Medical Library Association have released a statement encouraging publishers to support mandated author compliance with the NIH

Public Access Policy. Authors' failure to comply could result in non-renewal or denial of grant funding. This issue is affecting thousands of research scientists across the United States. Read more
HSLS librarians actively participated at the Medical Library Association's (MLA) Annual Meeting held in Boston, Mass., from May 3–8, 2013. Read more
The SciVerse Scopus Alerts app provides a streamlined interface to locate and share article citations, create alerts, and make notes about articles of interest.
Compatible Devices
The SciVerse Scopus Alerts app is free to download and is available for the iPhone/iPad from the iTunes App Store (iOS 3.0 or later required) and for Android devices from Google Play (Android 1.6 or later required). Read more
The third and final cohort of seven students in the Certificate of Advanced Study in the Health Sciences Librarianship (HealthCAS) program received graduation certificates at a capstone event held on May 4, 2013. The event was held in conjunction with the annual meeting of the Medical Library Association and took place at the Hirsh Library of Health Sciences at Tufts University Medical Center in Boston, Mass.
The goal of the HealthCAS program was to offer specialized preparation Read more
The history of medicine is full of controversial and colorful figures. Nicola de Blégny (1652-1722) certainly fits that description. He was a man of many talents: essayist, historian, physician, and surgeon. His birth date is disputed, although it is known that he was born in Lyon. He started his surgical career as a designer of trusses used in the treatment of hernia, but quickly climbed the social ladder to become physician to Queen Marie Therese (1678) and later to King Louis XIV of France (1682). He was a prolific author and left a number of works. These include monographs on hernia, venereal diseases, health, remedies for fever, and the use of coffee and tea. For some, he was a genius, for others—a quack. Read more
» Next Entries