February 2013
» Next Entries
In an effort to improve compliance with the NIH Public Access Policy, the National Institutes of Health (NIH) recently announced that more stringent standards will soon take effect. As described in the NIH guide notice, Upcoming Changes to Public Access Policy Reporting Requirements and Related NIH Efforts to Enhance Compliance, Read more
In the fall of 2010, UPMC physicians, residents, and nurses were invited to participate in the initial phase of a multi-site survey of the role of library information resources in improving patient care. The results of the full study were recently published.1 In this study, clinicians from 118 hospitals completed an online survey that asked them to think of an occasion when they required additional information for a patient care issue, and to then answer questions about the impact of access to library information resources on patient outcomes for that particular case. Read more
Elsewhere in this issue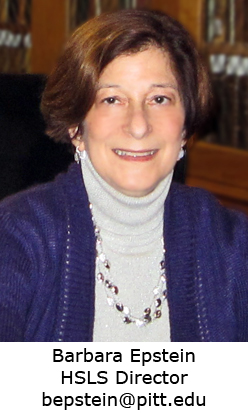 , Mary Lou Klem reports on the newly-published results of the Value of Libraries project, a multi-site study aimed at determining the impact of the library's information resources and services on patient care. UPMC participated in the pilot phase of this project. In this survey study, clinicians were asked to think about an occasion in the last six months when they looked for information resources for patient care (beyond what is available in the eRecord or lab results) and to answer questions regarding that occasion.
A total of 1,473 UPMC physicians, residents, and nurses responded to the survey. Read more
Free trial access to the Data Citation Index from Thomson Reuters will be available during the month of February. You can use the Data Citation Index to discover research data available in a growing number of data repositories worldwide. About 80 repositories are currently indexed by Data Citation Index. Roughly 60 percent of the indexed repositories focus on life sciences research; physical and social sciences, as well as arts and humanities, are also represented. Read more
E-books from STAT!Ref are available in a convenient mobile app for on-the-go access for Pitt and UPMC users.
Contents
The STAT!Ref Mobile App provides access to the following e-books: Read more
The economic climate of recent years demands that libraries build and manage their collections in more cost-effective ways. Subscription costs continue to rise—at rates far above general inflation—leaving libraries with little budgetary room to maintain their existing collections, let alone grow them. In response to the changing needs of their diverse user populations, libraries often add new resources while canceling others. Read more
» Next Entries