August 2018
» Next Entries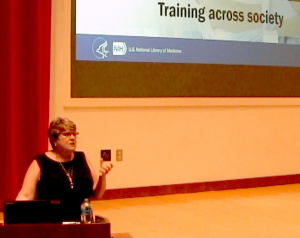 Patricia Flatley Brennan, RN, PhD, Director of the National Library of Medicine (NLM), visited the University of Pittsburgh on Tuesday, July 17, and presented a talk on "Transforming Data into Knowledge and Knowledge into Health: NLM Strategic Plan, 2017-2027." Founded in 1836 as the library of the U.S. Army Surgeon General, NLM is headquartered in Bethesda, Maryland. Since its founding, it has played a pivotal role in translating biomedical research into practice. NLM is the world's largest biomedical library and developer of electronic information services. In a single day the NLM delivers, not millions or billions, but trillions of bytes of data to millions of scientists, health professionals and members of the general public. NLM provides access to scientific and health information whenever and wherever it is needed—on scene at emergencies and disasters, in laboratories, health care facilities, libraries, schools, offices, homes, and on the road. Access to NLM resources is quick, convenient, and free of charge to people around the world. Read more
Many of us use PubMed daily and have grown accustomed to its features and ease of use. Since PubMed's original release in 1997 enhancements continually occurred with little change to the user interface. However, in December 2018 the National Library of Medicine (NLM) will transition from the current PubMed to a new interface called PubMed 2.0!
So how are we going to get to PubMed 2.0?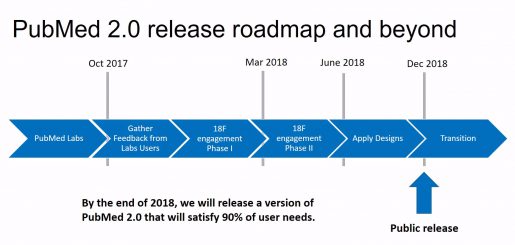 In September 2017, NLM released PubMed Labs, an experimental site to test new technologies, features, and directions for PubMed. Read more
The International Committee of Medical Journal Editors (ICMJE) is a working group of medical journal editors that makes recommendations for the conduct, reporting, editing, and publication of scholarly work in medical journals. Journals that state they follow the ICMJE recommendations include: Academic Medicine, American Journal of Epidemiology, Cancer Nursing, Chest, Circulation, Immunology & Cell Biology, Journal of Dental Hygiene, and Radiology.  Read more
Dr. Patricia Flatley Brennan, Director, National Library of Medicine (NLM) and staff from the NLM National Network Coordinating Office (NNCO) visited HSLS on July 17 and 18. HSLS is one of eight health sciences libraries across the county funded by NLM to serve as a regional medical library for the National Network of Libraries of Medicine. Read more
HSLS has a long history of working with the University of Pittsburgh's Health Career Scholars Academy (UPHCSA). The program began as the Pennsylvania Governor's School for Health Care in 1991 and became Scholars Academy in 2009. HSLS has participated in the program since its inception. The UPHCSA is a four week summer program that brings together high school students from throughout the United States and Canada who are interested in pursuing careers in the health sciences, particularly medicine. This year brought 198 students to Pitt's campus. Read more
According to the Scopus database, since 1998 HSLS librarians were the authors/co-authors of 130 articles, resulting in 1,392 cited references over the years! And this number does not include articles published recently.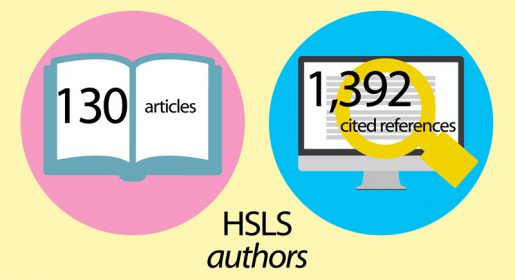 » Next Entries